Using Microsoft SharePoint In Remote Corporate Education
October 19, 2021
The year 2020 has become a turning point for enterprises all over the world. The global shift to remote work has prompted businesses to rethink their approaches to managing daily workflows, enterprise communication, and customer relationships.
Corporate learning is no exception. As employees' workplaces have moved to their homes, so did enterprise education. Accepting these new rules isn't easy because the popularity of on-site classes is still high. The 2018 LinkedIn Workplace Report shows that almost 70% of employees prefer learning at work. That's why many employees may now feel skeptical about starting their learning activities outside the office.
To keep up effective learning workflows within this new reality, companies have no other choice but to reboot their learning initiatives in a digital environment and launch suitable learning management solutions. Turning to eLearning software development on top of SharePoint can be a feasible way for companies to not just start e-learning activities but also address common challenges of modern corporate learning. Let's see how it works.
How to use SharePoint for learning management?
Adapting SharePoint for learning management needs is not that straightforward. It's true that SharePoint isn't a learning management system by default. However, it offers a variety of features that can be used as a reliable basis for a learning management system (LMS). Moreover, SharePoint, particularly its on-premises version, is extremely flexible in terms of customization, so the platform can be turned into a custom learning management solution that follows unique corporate learning scenarios.
SharePoint sites that form the basis of every SharePoint solution can support learning groups, ensuring ongoing collaboration between trainees and teachers. There are also ready-to-use wikis, community sites, and content storage that can become part of an enterprise LMS. Those who opt for cloud-based learning in Office 365 or Microsoft 365 can couple SharePoint-based learning activities with online learning in Microsoft Teams, media learning libraries in Stream and Sway, and learning communities in Yammer.
Addressing modern challenges of learning management with a SharePoint LMS
Just launching a solution for learning management isn't enough to stay in line with modern corporate learning trends. It's essential for the solution to stay flexible enough to be easily adaptable to emerging learning management challenges and support necessary learning management approaches and tools.
Operational learning. Learning experts point out the rise of operational learning that aligns learning activities with enterprise operations. With operational learning in place, enterprises can help their employees absorb critical knowledge about new products, workflow changes, and fresh strategies, which will prevent them from business-related mistakes because of ignorance.
The greatest issue in delivering timely updates is that they often get lost among stacks of documents and never get employees' due attention. In SharePoint, this challenge can be addressed through pre-set automatic notifications and group mailings that will inform selected employees about a new piece of content to note. Every update can go with a check-up program (for example, a test or a task to complete) in order to verify how well employees have grasped it.
If it is about a targeted learning session for a group of employees, learning activities can be launched right within their SharePoint team site, where trainees can learn new materials, check their knowledge, discuss updates with the teammates, and get explanations if needed.
Collaborative learning is yet another trend that becomes commonplace in 2020. As we all got trapped by social distancing along with the lack of face-to-face communication, people now look for human interaction more than ever before. The lack of collaboration between students and teachers, as well as within learning groups, increases the risk of misunderstanding and related mistakes.
Learning expert John Bersin provides impressive numbers while analyzing the difference between solo and group learning. Typically, learners remember only 28% of the information after two days. At the same time, people are likely to remember almost 70% of the same material if it is learned in an interactive context (a Q&A session, open discussion, team debate, etc.).
A collaboration platform by nature, SharePoint has a built-in multifaceted toolkit for collaborative learning. Learners can connect via the collaboration area within SharePoint sites and multiple Office 365 applications. They can also co-learn, share ideas and opinions about the learned content, and get recommendations from colleagues and domain experts.
Soft skill development. Remote work has also highlighted the role of soft skills. The global shift to digital communication has forced even avid introverts to pay more attention to their soft skills and adapt them quickly to the changing environment of digital-first work.
The 2020 LinkedIn Workplace Learning Report proves that once highly demanded hard skills are now overcome by must-have soft skills, such as leadership, creative thinking, and communication.
To foster employees' soft skills, businesses can leverage SharePoint's social features. Apart from encouraging ongoing collaboration within working teams, they can also invite employees to have a more open social interaction within communities of interest, social sites, and community portals. Employees can set up groups related to their hobbies, off-work activities, and social initiatives, where they can change their usual working roles and try becoming community managers, moderators, and social activists. This can then be translated into relevant working skills and bring visible improvements to daily business activities.
Psychological training. Finally, employers have faced one more challenge associated with the pandemic and the global adoption of remote work. Disturbed by personal health-related fears, locked up in their houses, and left in isolation, employees often report being stressed and more susceptible to overworking.
In this situation, employers often have to add psychological training to the list of learning activities. Some companies hire external professionals, some leverage the previously unused expertise of their HR specialists.
In this scenario, a SharePoint intranet is one of the best channels to spread the word and deliver timely psychological assistance, be it a one-time training on effective time management or an on-demand one-on-one psychological session on stress relief. Enterprise-wide programs can be managed through SharePoint intranet home pages to ensure broad coverage.
Corporate learning is about well-being
These are unique times for enterprise learning. Today, it's not enough to provide employees with access to the knowledge essential for their soft or hard skills. It's also important to help employees handle the new style of remote work successfully and preserve an optimal balance of work-life activities and psychological health.
To set up human-centric activities as part of their learning programs, enterprises can do without spending too much effort and budget on custom solutions. It's easy to initiate learning within a familiar SharePoint-based corporate intranet or start a cloud SharePoint subscription to get a plethora of learning-friendly features out of the box.
Featured Image: LinkedIn Sales Solutions, Unsplash.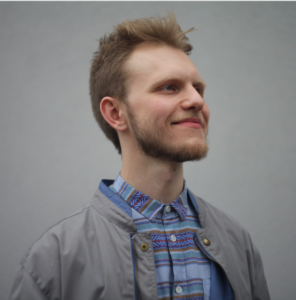 Andrey Koptelov is an Innovation Analyst at Itransition, a custom software development company headquartered in Denver. With a profound experience in IT, he writes about new disruptive technologies and innovations in artificial intelligence and machine learning.