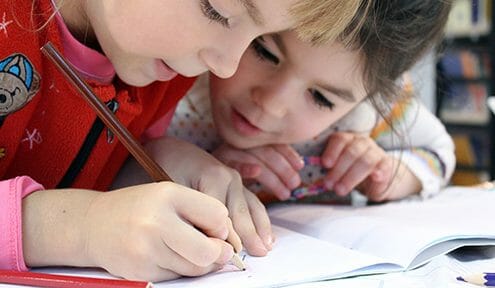 With TenMarks Amazon Moves to Dominate Education
August 26, 2017
First it was books. Then, it was other goods. Eventually, Amazon started to offer services, like home repairs and cleaning. So, maybe it was only a matter of time before Amazon tried to dominate education too? With TenMarks, the company is at least taking steps to move in this direction.
TenMarks History
TenMarks was founded in 2009 in California with a mandate to offer personalized learning, on-demand instruction, and homework help. At first, the company focused exclusively on math, primarily at the middle school level, but overtime, it expanded to other grade levels.
Early on, a key part of TenMarks' popularity was "teacher zone." At the time, co-founders Rohit Agarwal and Andrew Joseph explained, "We released TeacherZone as a free service for educators because of the overwhelming feedback we received on the video lessons. When teachers and tutors used TenMarks with their students, they loved how the students reacted to the video lessons, and many asked us if they could use the video lessons in other ways. TenMarks believes in democratizing math learning, and TeacherZone is the perfect solution." Among other benefits, TeacherZone enabled teachers to access short video lessons for use in classroom and in "flipped classroom" learning experiences. The response was overwhelmingly positive.
Amazon's Purchase of TenMarks
TenMarks was purchased by Amazon for an undisclosed amount in 2013. On the TenMarks' website, the company's current mandate appears to more or less reflect the company's original mandate: "TenMarks provides solutions to personalize learning and help every student reach his or her potential." To date, the company appears to have been adopting a slow growth model (at least by Amazon standards), but earlier this week, Amazon announced that TenMarks was expanding.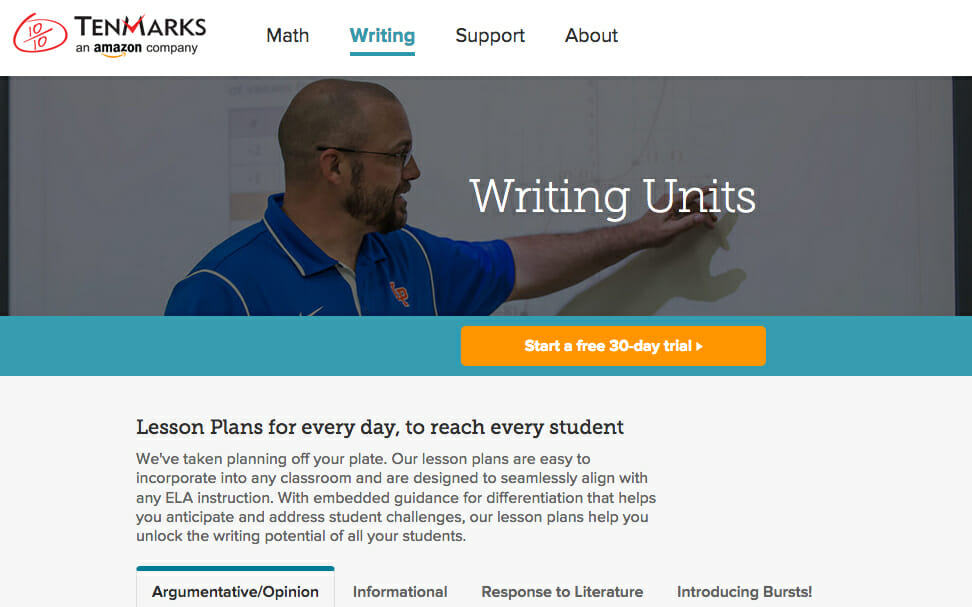 As stated in a press release issued on August 23, 2017: "TenMarks Writing brings to life storytelling and expository writing for students using scaffolding." Ms. Megan Cooley, a fifth grade teacher from Rochester, observes, "When teaching writing, it is essential that students receive individual attention in order to be successful, enthusiastic writers. TenMarks Writing inspires students to express their thoughts creatively, guiding them through the writing process and freeing up my time to work with students one-on-one."
Key features of TenMarks new writing program include "writing coach," a personalized learning engine that uses natural language processing to deliver timely and personalized feedback to students, "bursts," which offer story ideas, and new teacher resources, which include everything teachers need from lesson plans to grading rubrics.
The TenMarks' Difference: Computers Teaching Kids to Write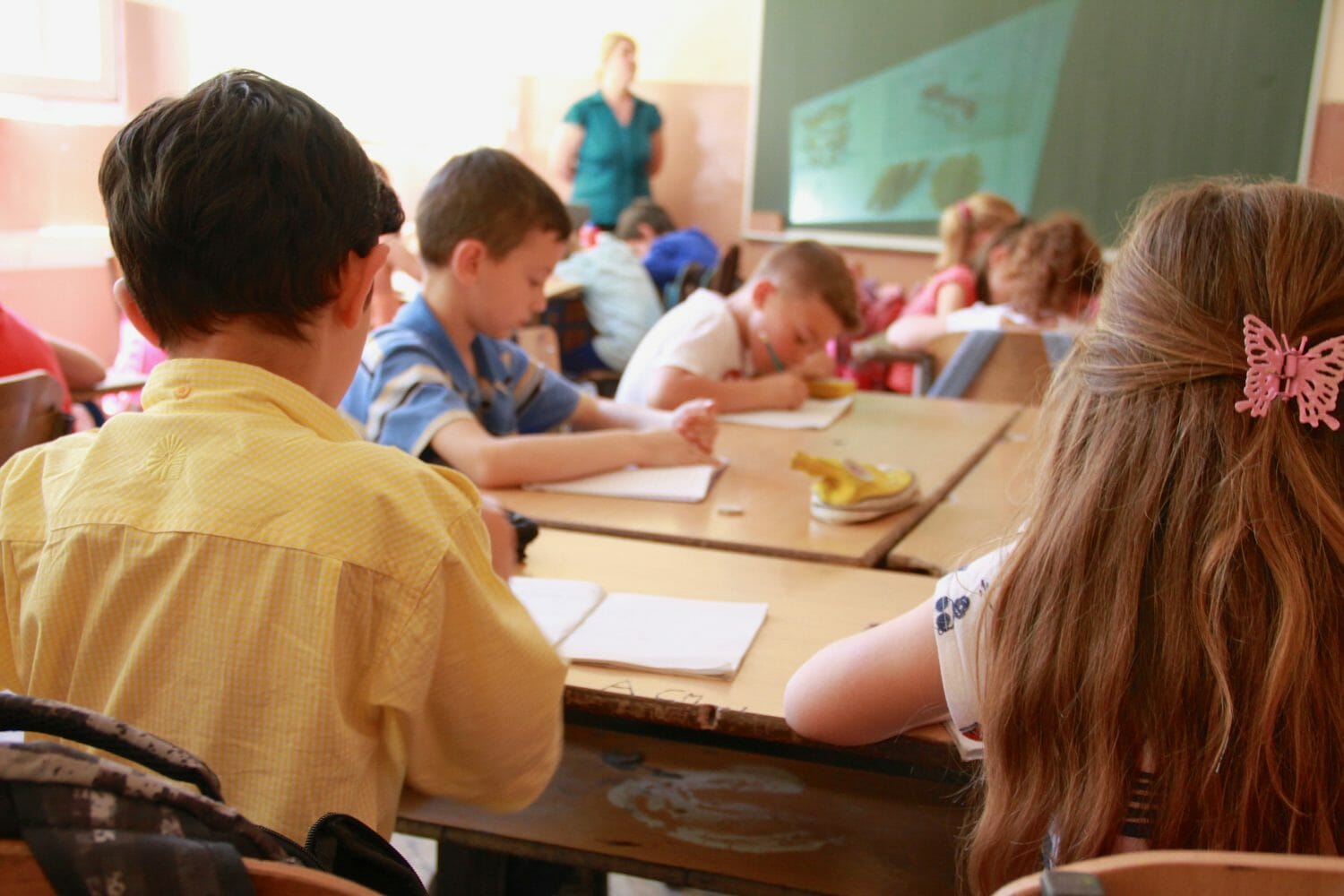 As most people already know, Amazon does things on a mass scale. This means that that unlike many other companies that offer similar products, Amazon has the data and people needed to develop online learning tools driven by new and emerging technologies more quickly. The key difference between TenMarks and many other similar tools on the market is its growing reliance on natural language processing.  Simply put, natural language processing is about teaching computers to understand human language. But can a computer really teach a child to write?
For many years, the answer to this question was evidently no. After all, since the 1950s, humans have been trying to teach computers to write with little success. Recently, however, decades of research and development have started to pay off. Natural language processing, largely due to big data, is finally becoming viable and beginning to seep into classrooms.
In a recently published article in The Atlantic, teacher and writer Paul Barnwell reflected on the arrival of a similar technology to TenMark in his own classroom: "I'm now considering the real possibility that, for at least part of a class period or school day, a computer could—and maybe should—replace me." After all, the technology enables Barnwell to offer personalized lessons to every child in his class whether they are an ESL learner, working with a learning disability, or gifted, and that's something that no teacher has the time or knowledge to do on their own. But Barnwell also has clear misgivings about this new development: "Personalized learning often becomes inherently impersonal; it's a sterile approach to messy, complex classroom processes. And there's also big money at stake for education-technology companies and curriculum publishers who are taking advantage of pressure to increase academic achievement."
So, is Amazon about to take over classrooms just as it took over independent bookstores? With so many viable competitors, it seems unlikely that Amazon will become a primary player any time soon. What is clear is that its TenMarks acquisition back in 2013 was about much more than offering teachers and students access to affordable math and writing lessons. With TenMarks, Amazon gains access to valuable data on how students learn to read and write and this in turn is data that can be used to drive the companies own development of natural language processing technologies. The real question is who will ultimately gain the most…teachers and students or Amazon's own technology?