5 Best Blogging Platforms for Creative Students
December 11, 2020
Are you a proactive and creative student? If yes, you might be looking for new experiences and possibilities to demonstrate your creativity. We've got something for you! If you have always dreamed about doing something creative, then you should really consider becoming a blogger!
Running a student blog has lots of perks. First of all, it is a chance to earn some money. However, there is actually much more to it. Running your own resource is a way to unleash your creativity, share your ideas with the world, boost confidence, meet like-minded people, and much more.
Thus, if you have been thinking about whether you should try it or not, we encourage you to give it a shot! Of course, combining such activity with studying can be rather challenging. However, with some dedication, motivation, and a reliable essay help service by your side, you should be able to find the balance and succeed!
Student Blogging: Top 5 Platforms to Get Started
So, you are ready to get on this journey. But, where to begin? – It all begins with an idea, desire … and a reliable blogging platform to help you bring it to life.
Today, there are tons of different platforms that make creating, sharing, and managing content simple. But which one to choose? To help you get started, we've created a list of the best platforms every creative student will love.
WordPress
Speaking of the best platforms to start your blogging adventure it is impossible to go past WordPress. With over 60 million users, it is the biggest famous tool for content creation and management. It is the number one choice for content creators across the globe. And it is a great option for students in particular.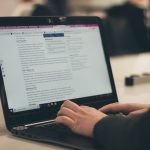 There are plenty of reasons that make WordPress worth your attention. It is extremely flexible and customizable. It gives users full freedom in terms of design and settings.
At the same time, it is an open-source platform and can be used free of charge, which does speak to students. In addition, there are tons of templates, designs, and handy features that will help you make a smooth start and succeed.
Finally, this platform is super user-friendly. While it does have some advanced features for the most tech-savvy users, like a possibility to access and edit the code of your website, it can also be easily handled without any experience in HTML or Web Design. So, it is perfect for beginners!
Wix
Next comes Wix. It offers a wide range of features and customizable options. Those will help you demonstrate your creativity and build a high-quality website.
In a nutshell, Wix was designed for website building. However, they also have a handy blog feature. It is one of the easiest-to-use builders, which makes it extremely popular among users from all over the world.
One more benefit is a wide range of free tools and features. With a free plan, you can get a Wix subdomain, which may not be the best option for business, but will work just fine for students.
However, even if you decide that you want to have a paid plan, you will be surprised by how affordable it is. The price starts from only 13$ per month + you'll get a free custom domain for the first year.
Tumblr
If you feel like you don't need many advanced and fancy features at the beginning of your path, then you might want to choose Tumblr. Unlike Wix or WordPress, Tumblr is a social media platform, which still allows users to create full-fledged blogs.
The platform enables you to create seven types of posts, share videos, photos, music, links, etc. It is 100% free of charge. And it also enables you to customize your blog with the help of many great templates and features.
Also, Tumblr is very intuitive. Just like any other social network, it makes creating, sharing, and managing content super easy, which is why it is a wise choice for beginners.
Blogger
The next option for creative students is Blogger. This site is a pioneer among blogging platforms. It has been around since 1999 and most of the industry old-timers began their path here. It is still popular so you can consider it for yourself.
The website has plenty of benefits. It is also free of charge and very easy to use. Just like Wix, it allows you to get a subdomain or create your own custom domain. Also, there is a huge database of layouts, styles, templates, and a whole bunch of great features.
The biggest reason why this platform is still trending after over 20 years of existence is that it offers you additional opportunities for monetizing your blog. The site is owned by Google and one of the features it provides is a possibility to generate more cash with the help of Google AdSense.
Simply put, this feature allows you to display targeted ads on your resource and earn extra cash for views and clicks.
Write.as
All these sites like WordPress and Wix may sound not really fun to some individuals. Especially to those who feel overwhelmed by all these tech and design tasks that need to be performed prior to launching a blog. But, what if you go past all the customization and website building?
Then, all that's left is pure creativity and art. And that's what Write.as is all about. This platform is much different from the other options on this list. It is super minimalistic and that's its biggest advantage. If you pick this site, you can just start writing immediately. There is no need to create or manage a website. You just create content and share it with the audience.
Write.as is a fun way to try yourself in blogging without spending too much time on building a website. Using this site, you can post short or long posts and see if they will attract the attention of the audience. Also, this site also has one unique feature that enables essay writers to remain fully anonymous.
Featured Image: Lukas Blazek