These Online Resources Can Help You Navigate the Project Management Roadmap
December 18, 2020
No matter how hard you try, there are times when certain aspects of project management slip away. So, it is high time to reconsider the groundwork established in your project. An intervention or further training may be required.
In project management, problems arise of all sizes. Resources might be insufficient; deadlines aren't met on time; teammates might miss milestones; miscommunication leads to confusion.
Why does it happen? Why can't we achieve consistent results? How to solve these issues? What points to concentrate on not facing the same problem again?
Free project management software might solve your problem. However, solutions to all these questions will depend on the industry, project, and team members.
Either you are looking to rework the approach or struggle to handle the current project, these five steps will help manage your project.
Discover the Root Cause of Chaos
The solution to any problem prevails in its root cause. To accomplish this, you can start by asking the right questions to the right people.
Precisely, if there is a delay in delivery of the designs from the creative team, ask them- Is the same kind of task delayed by the assignee? Is the task timeline insufficient? Are all team members communicating correctly?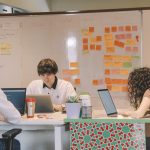 Questions like this would retrospect the operational level of individuals in every team. Consequently, reports from these teams would allow you to see who is overworking, and who is working less?
This simple strategy would list down all the causes for the chaos.
Brainstorm the Possible Solutions
After you uncover the chaos in the project, it is time to figure out possible solutions. There is no one solution for all the problems.
The best way to bring forward the solutions to all the problems is to send out survey forms to each employee with questions like what they prefer to do list or visual learning? What is their ideal way of communication? Which working hours fit to pitch ideas? What would it take to complete the tasks on time?
Eventually, asking out these questions personally in the form of surveys will open up their mind to give you their honest words.
Ensure Your Methodology Is Right
While you have the answer to why? And how? Now, it is your project management approach that could tackle these changes. Maybe your methodology works great in-office but not on remote locations.
It is good enough to take time to reevaluate your methods. You might find it is time to adopt a hybrid approach for your team. Companies using more than one practice have achieved on time quality project deliverables.
Post to shift towards new methodology, allocate time to train your employees through videos from a free project management e-learning tool.
This time is essential to set the right foundation again to avoid further future chaos.
Foster Collaboration and Communication
It is ideal to think about future perspectives after framing a new methodology. You should ensure to outsmart the chaos and come up with holistic solutions. Be prepared to anticipate chaos even in the future.
But, this time, you are ready to tackle effectively. Also, stay flexible with your methods. A team effort towards combating the existing failures will give life to your practical ideas. The more collaboration occurs, the faster the issue is solved.
Using a free project management software bridges the team's communication gap, facilitating notifying the updates on the project.
Instead of using multiple tools or platforms, rely on a single device to communicate without creating chaos.
Use Smart Project Management Software
A versatile free project management software provides the right platform to discuss all the issues in prior.
Pick the software that is easily accessible on mobile and other features like visual dashboards, custom workflows, progress monitoring, and document collaboration.
Conclusion
Irrespective of your industry, this roadmap has insights to identify and solve the chaos in the project. We hope our key steps help you succeed in your project skillfully.
Featured Image: Thisisengineering RAEng, Unsplash.