Secret Sauce is eLearning
March 02, 2017
If you've ever traveled abroad and eaten at a U.S. restaurant franchise, you've likely wondered how companies maintain nearly identical standards worldwide. In many cases, the secret sauce is eLearning. After all, with eLearning, time zones and schedules are not a barrier nor is there any need to train local representatives to deliver a unified training message. Subway and Starbucks are two U.S. based companies that have realized just how effective eLearning can be in this context.
The University of Subway
Subway, known for its affordable sandwiches, cookies and soft drinks, is one of the world's largest franchises. Indeed, with stores in 110 countries at more than 44,000 locations, Subway is a brand that travels far and wide. So how does it ensure that a Spicy Italian or Veggie Delite is served up with more or less the same ingredients and service worldwide?  The franchise now relies on an online training platform.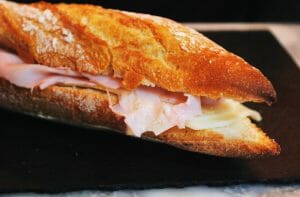 In 2016, in just 30 days, Subway rolled out a new training program to an estimated 125,000 users around the world with virtually no complaints using Schoox's training platform. Trevor Haynes, the VP or Operations for Schoox, explains, "In order for franchisees and company employees to ensure they are always providing exceptional services to their customers proper training is critical." Their partnership with Subway shows just how effective eLearning can be when attempting to tackle training issues on a global scale "Implementation in the Learning Management System (LMS) industry tends to be the most painful part for our clients," explains Lefteris Ntouanoglou, CEO of Schoox. Ntouanoglou adds, "We purposely made it the easy for our customers by strategically designing our user experiences and our product capabilities to serve complex organizations like Subway."
But what do subway's owners think? Omar, who runs a subway in Brooklyn, New York, told eLearningInside that for him, the company's online learning platform is a lifesaver: "There's a lot of commitments you make when you buy a franchise and lots of stuff to learn. It's always changing since Subway has new products all the time. I do the training on my phone when there's no one in the shop."
Starbucks' Approach to eLearning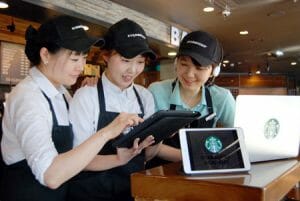 Like Subway, Starbucks has also proven to be an eLearning leader. From Seattle to New York to global locations around the world, employees are offered free and easily accessible training on an ongoing basis via the Starbucks Academy. However, Starbucks online education program is not limited to training baristas to turn out nearly identical drinks worldwide.
For several years now, Starbucks has also been partnering with virtual education leader, Arizona State University, to offer its U.S. employees an opportunity to complete university degrees online. Through the ambitious endeavor, full tuition coverage is available for all four years of college and employees have access to 49 online degree programs with no commitment to stay working at Starbucks after graduation.When Starbucks unveiled the program back in 2015, Howard Schultz, CEO of Starbucks explained why the company was investing in their employees' futures: "Everyone deserves a chance at the American dream. The unfortunate reality is that too many Americans can no longer afford a college degree, particularly disadvantaged young people, and others are saddled with burdensome education debt. By giving our partners access to four years of full tuition coverage, we will provide them a critical tool for lifelong opportunity. We're stronger as a nation when everyone is afforded a pathway to success."
If the "Secret Sauce" is eLearning, what about McDonald's?
Surprisingly, McDonald's, which has long been associated with the "secret sauce," has been slow to embrace eLearning as a solution to its ongoing training needs. In fact, Hamburger University continues to operate as a stand-alone campus in Illinois and even the company's English Under the Arches program, which is designed to teach English to employees in the United States and abroad, is primarily offered in face-to-face settings. While it is unclear why the company continues to downplay eLearning, there is no question that it represents a missed opportunity. After all, with a notoriously high attrition rate and staggering training budget (in Australia, where there are only 900 restaurants, $40 million is spent annually on training), McDonald's would have much to gain from exploring eLearning's full potential.
Photo by Domenico Loia on Unsplash