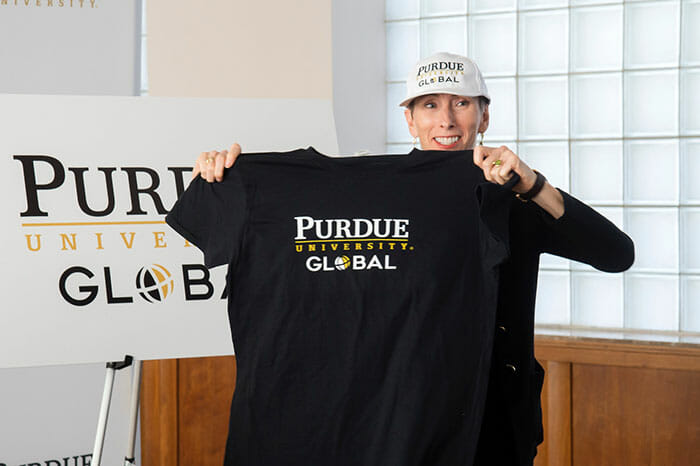 Purdue Global: A Hiring Spree and More Revelations About Acquisition
June 10, 2018
Purdue Global, the nation's newest online university, continues to prove newsworthy. The entity that was formed after Purdue University purchased Kaplan in 2017, officially launched in early April. Since its official launch, it has held its first graduation, gone on a small hiring spree, and found itself facing more public scrutiny over the terms of its formation.
Purdue Global's First Graduation
Despite being officially only two months old, Purdue Global held its inaugural graduation ceremony on June 2nd. At the ceremony, 9000 online students who had started their degrees with Kaplan were honored but only 650 students attended the ceremony in person.
Both Andrew S. Rosen, Chairman and CEO of Kaplan, Inc., and Mitch Daniels, President of Purdue University, were on hand to celebrate the graduates at the historic ceremony. While largely a celebratory day, the politics behind Purdue Global's creation were still on the table. In a press release issued to mark the event, Rosen said, "There is a long history in American higher education of incumbents resisting the expansion of access to higher education, but an equally remarkable history of the new institutions overriding that resistance and adding to the strength of our system." His comment was no doubt a direct reaction to the ongoing criticisms Purdue Global has faced, especially from full-time Purdue faculty members, since Rosen and Daniels first announced plans for the new university in 2017.
Purdue Global Launches Faculty Recruitment Drive
Although Purdue Global has promised to retain most of Kaplan's faculty and to bring on existing Purdue faculty, there are indications that Purdue Global may be on a recruitment drive.  In fact, there are currently 18 positions posted on Inside Higher Education. Whether these new faculty members will replace faculty members let go from Kaplan's ranks is unclear. Questions also still remain about the extent to which existing Kaplan faculty will be integrated into Purdue's established faculty ranks and how this will impact both compensation and promotions.
The True Cost of the Kaplan Deal
While Purdue Global's recent graduation and faculty recruitment drive seem to suggest that the new online university is finally moving past the controversy surrounding its creation, revelations about the terms of the Kaplan acquisition continue to come to the surface. Earlier this week, the Purdue Exponent, a campus-based paper at Purdue University, published an article offering new details about the money that exchanged hands at the time of Purdue's acquisition of Kaplan.
Despite previous reports that Purdue paid Kaplan just $1 at the time of closing the purchase, the Purdue Exponent reported that the deal was a bit more complicated and a bit more lucrative for Kaplan Higher Education (KHE) than previously revealed. As reported, "Provided that [Purdue Global] is financially successful, KHE will receive 12.5 percent of PUG's revenue in exchange for its support services. That fee, according to the SEC filing, increases to 13 percent in 2023 before it returns to 12.5 percent in 2028."
However, the deal does provide an exit for both parties if returns are lower than expected. If Purdue Global's operations produce $25 million in losses for three consecutive years, or total losses of more than $75 million at any point, either Purdue or KHE can terminate the deal. However, the Purdue Exponent also reported that substantial funds have already exchanged hands in advance since Purdue's acquisition of Kaplan University included a $20 million "down payment" to the newly formed Purdue University Global.
Despite the controversy and some broader concerns about Kaplan's history of handling Title IV funds, which were also exposed in the Purdue Exponent's recent article on the new online university, Purdue Global appears to finally be taking its first steps towards business as usual.