NCSBN Launches Online Transition to Practice for Nurses
February 04, 2017
In early 2017, the National Council of State Boards of Nursing (NCSBN) announced plans to launch a new "Transition to Practice" program for nurses. The online e-learning program will support newly licensed nurses. A key part of the program is to reinforce important concepts, including those related to patient safety and critical thinking. The NCSBN launches online transition to practice for nurses with an aim to help new graduates put their knowledge into action on the job.
Why Online Learning is an Effective Way to Support New Nurses
The NCSBN's Transition to Practice program reflects the fact that overtime, the National Council of State Boards of Nursing (for example, through long-term controlled studies) has concluded that transition programs increase the competence, satisfaction and retention of new nurses and radically reduce errors.  The National Council of State Boards of Nursing has also found, however, that new nurses are often exhausted, adjusting to demanding shift work and have little time to attend courses on campus. The online option ensures that vital reinforcing education is available but without placing increased demands on the population in question.
"Nursing is an undervalued but high stress profession," says Callie Turner, a nurse and nurse education based in New York City. "With online education, we can lower critical errors, support new nurses by giving them an opportunity to complete courses in their spare time using any device, including their iPhone, and younger nurses love the fact that they have the courses on their person–if they have any questions or doubts, they can return to modules as needed."  Melanie Rhinebeck, a new nurse, agrees: "I feel confident but the courses are a good reinforcer, and I just couldn't do a weekend or night course."
Structure of the NCSBN Program for New Nurses
The National Council of State Boards of Nursing program consists of five courses in total and upon completion, students receive a certificate. The courses are available through the NCSBN Learning Extension website and include the following:
Course 1: Communication & Teamwork: This course aims to offer new nurses support on creating safe and effective care by improving their communication and teamwork skills.
Course 2: Patient- & Family-centered Care; This course aims to help nurses better understand how to empower patients by including patients and family members in a heath care team
Course 3: Evidence-based Practice: This course promotes nurses' continuing research skills on the job.
Course 4: Quality Improvement: This course encourages nurses to embrace change to implement continuing improvements.
Course 5: Informatics: This course helps nurses explore how to support patients through new technologies (e.g., to increase the flow of information between the patient and health care team).
NCSBN Launches Online Transition to Practice for Nurses with Hopes to Heighten Professionalism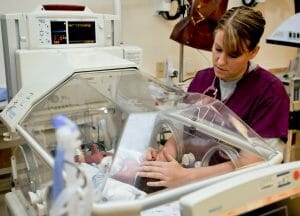 The NCSBN's program is not the first national online training program for nurses. Indeed, around the globe, there is evidence suggesting that eLearning is an effective way to respond to the needs of new nurses and those who have been on the job for years. If eLearning is being embraced by the National Council of State Boards of Nursing, it is no surprise.
A 2014 study published north of the border in the Canadian Journal of Nursing Informatics reports, "E-Learning offers many positive possibilities and advantages that can provide the necessary flexibility in times of massive workplace change." Similar findings have been found in recent studies carried out in the United Kingdom. A 2010 study by Karen McKenzie and Aja Murray, which was published in Nursing Times, emphasizes, "Nurse education helps students move from being novices to qualified nurses and this learning process is underpinned by changes in students' identity." The study further observes, "Research suggests that the technologies commonly used as part of online learning can help the process of identity change in ways that face to face teaching cannot. E-learning can provide communities of practice online in situations where factors such as geographical location would otherwise make it difficult. It can [also] offer students more control over online interactions than in face to face teaching, which may encourage introverted students to engage more fully."
Notably, there may be some limitations to online training for nurses. A 2015 study carried out in the Netherlands found that while younger nurses often report high completion and success rates, older nurses do not. In the study, researchers examined the success of an online course on for nurses on the topic of delirium. The researchers concluded, "Nursing staff aged over 50 had a lower average baseline score than their younger colleagues." However, the researchers also speculated that "The differences between older and younger members of nursing staff might indicate that the education on delirium that nursing students receive has improved in the Netherlands over the years." What the Dutch study may suggest, however, is that eLearning is an especially effective approach for new nurses, and if this is the case, it is good news as the NCSBN launches online transition to practice for nurses nationwide.