Microsoft Teams vs Zoom in Online Learning: A Side-by-Side Comparison
November 19, 2020
Teams vs Zoom … unless you have been living under a rock for the last few months, the names of these two video conference and collaboration platforms will sound familiar to you.
From working remotely to working out … remotely (Zoom Parties, anyone?) these platforms have been key to confronting the quarantine situation. And, when it comes to online learning, both tools are an excellent option to go for.
Each one offers great features to enhance the overall online learning experience and make things easier for educators and students. But what are their differences? For a variety of reasons, in the debate of Teams vs Zoom, we believe Teams is best suited to online learning. Read below to find out why we think so.
Teams vs Zoom – Starting with Zoom
Zoom is a cloud-based video conferencing platform that offers audio and video meetings for up to 100 participants with HD audio and video. In the free version, meetings have a 40-minute limit. Paid versions can host up to 1000 participants for an unlimited time.
With Zoom, teachers and students have a screen sharing option, and access to collaboration tools like sharing files, real-time co-annotation, and digital whiteboarding. There is also access to breakout rooms, virtual backgrounds, in-meeting chat, and the option to record meetings. Zoom is available for most kinds of devices and supports scheduling or starting meetings from Outlook, Gmail, or iCal.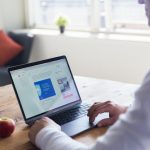 Zoom Video Communications, Inc.'s profitable success from 2019 was boosted by the Covid-19 pandemic in 2020, getting a significant increment of users worldwide and becoming one of the leaders of the market.
Now that we mentioned the main features of Zoom, it's time to talk about Teams.
Microsoft Teams is a chat-based collaboration platform that integrates document sharing, online meetings, calendars, and many other features that make business communications much easier and effective. However, this platform does not limit itself to business use only.
MS Teams allows students to connect with each other and with their teachers, ask questions during a class, collaborate on projects, work on assignments and track their progress, use an online whiteboard, and organize files and group work. It's very much how we would imagine a virtual classroom.
Students have access to the OneNote app and to class material folders (securing reading-only content). Teachers have editor access to the class material folders and early educator access to set up the classroom before each class. This allows them to ensure things are ready for students to join the session.
Educators are also able to mute students and add other permissions as needed. They have access to Grade Sync, so they can do all their grading work and have it automatically uploaded from Teams back to the SIS grade book.
These features make the whole process easier for students to access the resources and teachers to manage the entire process.
What is the difference between these two platforms?
When it comes to integrations, there are other factors to consider when weighing Teams vs Zoom. Microsoft Teams is integrated with Office 365. Zoom integrates seamlessly with platforms like Moodle, Canvas, Desire2Learn, Sakai, and Blackboard, which makes this platform very convenient for those who use these services.
When it comes to features, the difference between these two platforms relies on the fact that Microsoft Teams is based on team collaboration, and Zoom focuses on video conferencing quality.
Which one is better? We would say that, for online learning purposes, Microsoft Teams is your go-to option. While video conferencing, our main subject here, is the premise of Zoom, it is just one of the features included in the Microsoft Teams suite. Most of the features are available in the free version, making it a very helpful tool for educators in this context.
We at Instructor Brandon have made our choice between Teams vs Zoom. We use Microsoft Teams on their MS Dynamics 365 training courses, providing coaching sessions for students who want a personalized learning session. We also use the platform for our company's team collaboration. "The most important part is making the student feel comfortable with the used platform," says founder Brandon Ahmad. "This will rely on your capacity to get the most out of the tool you choose to use, but also on focusing on the student experience." In our teaching environment, it's necessary to share files such as screenshots, a feature that the MS Teams interface allows among others.
At the end of the day, their main goal of all these apps is to provide a quality engaging experience for all kinds of users – making the most out of them depends on us and how we use them.
Sara Luna is a copywriter from Caracas, Venezuela. While she is a native Spanish speaker, she writes in both Spanish and English. Sara is a law student at the Central University of Venezuela and a freelance writer specialized in business and tech.
Featured Image: Charles Deluvio, Unsplash.