Mentoring Minds Acquires SchoolSpire to Fuse Their Curriculum with a Digital Platform
December 10, 2019
On December 10, the Tyler, Texas-based Mentoring Minds announced it had acquired SchoolSpire, which is located just 100 miles away in the Dallas-Fort Worth metroplex. The former provides a variety of standards-aligned curriculum packages to schools aimed at fostering critical thinking skills among students. The latter provides what they call an Instructional Management System—a digital platform that hosts digital content, delivers assessments, and provides analytics for a K-12 context. Details of the deal were not made public.
Both companies were founded in the early aughts. Mentoring Minds serves over 1.3 million students annually. SchoolSpire has been deployed widely in the U.S. and internationally. Outside of the U.S. alone, the company has been used by over 3 million learners.
A Mutually Beneficial Deal for Mentoring Minds and SchoolSpire
The acquisition marks another chapter in a trend that has continued to fuel the edtech sector. As teachers begin to bring more of their instruction online, and as devices become more available to students, more stakeholders have sought to bolster their traditional instruction methods and products with online delivery and digital tools.
"We recognize that digital instruction has made incredible advancements in the past decade," said Mentoring Minds CEO Shad Madsen. "To prepare for the future of education, we sought out solutions to improve upon our current online platform. Bringing the SchoolSpire team on board plays to both of our organizations' strengths.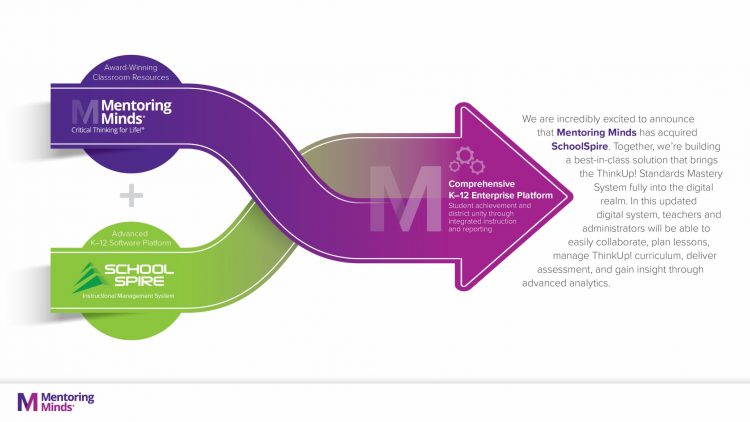 "The SchoolSpire product has already demonstrated success in the market, and their team brings industry experience that will enable us to build new solutions at an accelerated pace. Together, we'll develop a platform that hosts all the capabilities expected of a modern learning management system while also delivering the full suite of our educator resources, curriculum, and instruction at an affordable price. Our team will also be equipped with the technology and expertise to evolve as education trends emerge and the needs of teachers and students evolve."
Mentoring Minds plans to bring the entire SchoolSpire team into the fold. SchoolSpire founder and CEO Muhammad Wasay will take on the role of CTO.
Critical Thinking Skills Aligned with Standards
Mentoring Minds' ThinkUp! Standards Mastery System provides a suite of curriculum supplements for teachers, including accompanying assessments, to bring critical thinking skills to core subjects.
"Many educators recognize the benefits of critical thinking, and are successful in nurturing these skills in students through recognized teaching and learning strategies," Madsen said. "However, critical thinking in practice is not consistently and broadly developed to support standards-based content with meaningful application. At Mentoring Minds, we believe that a district-wide critical thinking culture elevates achievement among all students."
The addition of SchoolSpire's platform and analytics dashboard will bring these efforts to the next level. It will allow teachers to see the results of ThinkUp! themselves, while deploying it on the same platform as the rest of their instruction.
"With SchoolSpire technology, we will offer a complete digital solution that supports educators as they plan lessons, guide instruction with built-in tiers of support, deliver assessments, and gain insight through advanced analytics," Madsen said. "Ultimately, our solution enables all educators to deliver critical thinking in a more meaningful and practical way."
Featured Image: Glen Carrie, Unsplash.