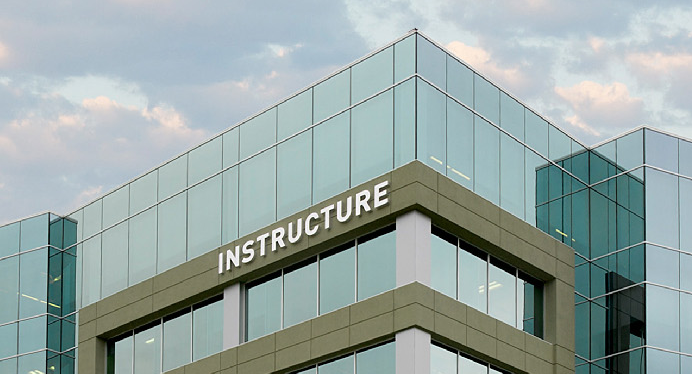 Instructure Ranks on Deloitte's 500 Fastest Growing Tech Companies List
November 11, 2017
Over the past year, a growing number of universities and colleges have switched from Blackboard to Instructure's Canvas learning management platform. At the K-12 level, several schools and entire school districts have signed on to Instructure's Gauge platform. At the same time, several large businesses have adopted Instructure's training platform, Bridge. The results are evident. Last week, Instructure, Inc. announced that it ranked number 280 on Deloitte's Technology Fast 500™. The list, released each Fall, ranks the 500 fastest growing technology, media, telecommunications, life sciences, and energy tech companies in North America.
Instructure's Current Scope and Mandate
Instructure continues to make gains on the LMS market on the K-12, higher ed, and training sides of the market. Their third quarter results reflect their ongoing success. As Josh Coates, CEO of Instructure, announced in late October, "We had a solid third quarter, delivering 42% revenue growth while posting continued improvements to our operating margin." Coates credited two Instructure platforms in particular with the company's ongoing growth: "Strong adoption of both Canvas and Bridge as well as exceptional customer satisfaction give us confidence in our ability to continue to expand our leadership position."
Coates was quick to point out that Bridge continues to gain ground and offer new applications to better meet organizational needs. New developments include the HCM module Bridge Perform, which is a platform for facilitating meaningful employee-manager interaction. As Coates notes, "We are excited about the positive response we have received to date and look forward to expanding our presence in the HCM market."
Deloitte's Inclusion of Instructure
Deloitte Technology Fast 500 focuses on companies who have exhibited impressive fiscal growth over the preceding three years. In order to qualify for Technology Fast 500 recognition, companies must own proprietary intellectual property or technology and have  operating revenues of at least $50,000 USD, as well as current-year operating revenues of $5 million USD or more. Only companies headquartered in North America with four or more years of development are eligible. Instructure, not only meets all these criteria, but grew at a rate of 326% over the past three years. As a result, it was well positioned to rank high on Deloitte's 2017 Technology Fast 500 list.
Heather Gates, Deloitte & Touche LLP's National Managing Director, explains, "Emerging growth companies are powering innovation in the broader economy. The growth rates delivered by the companies on this year's North America Technology Fast 500 ranking are a bright spot for the capital markets and a strong indicator that the emerging growth technology sector will continue to deliver a strong return on investment." Gates also emphasizes,"Deloitte is dedicated to supporting the best and brightest companies of the future in the emerging growth company sector. We are proud to acknowledge the significant accomplishments of this year's Fast 500 winners."
As  Sandra Shirai, Vice Chair of Deloitte Consulting LLP, explains, "The Deloitte 2017 North America Technology Fast 500 winners underscore the impact of technological innovation and world-class customer service in driving growth, in a fiercely competitive environment." Shirai adds, "These companies are on the cutting edge and are transforming the way we do business. We extend our sincere congratulations to all the winners for achieving remarkable growth while delivering new services and experiences for their customers."
Instructure's Reaction to the News
Not surprisingly, Instructure executives were happy to receive news of this year's honor. Jeff Weber at Instructure explains, "Recognition for the growth we have achieved is heartening, and it's only possible thanks to the incredible work of our team who are so passionate about delivering quality online learning. With so many other great tech companies on this list, it is a true honor to receive this award."
Moving forward, Instructure anticipates increased growth. As stated in the company's third quarter press release issued late last month, "For the fourth quarter ending December 31, 2017, Instructure expects revenue of approximately $41.0 million to $41.6 million, a non-GAAP net loss of ($8.8) million to ($8.2) million, and non-GAAP net loss per share of ($0.29) to ($0.27)per common share." With such projections, it seems likely that Instructure will be back on Deloitte's list in 2018 and may even move up in its ranking.