How COVID-19 Has Changed Education And How to Adapt
January 08, 2021
Modern education has never seen as much upheaval as it experienced in 2020 due to the lockdowns imposed worldwide in response to the COVID-19 pandemic. Over 1.2 billion students around the world were unable to attend classes at educational establishments at the height of the pandemic, and the future of school openings is still up in the air in most countries. However, COVID-19 has changed education systems in ways that are still not yet fully understood. The situation has shown how robust teachers and students can be in the face of significant educational challenges, and they have learned to adapt very well. eLearning is at the heart of education's changing face.
The Growth of eLearning in 2020
In most countries, the COVID-19 lockdowns have generated a blended learning model that involves both in-person education and e-learning. That means, in the physical classroom, class sizes have been reduced, students and teachers must socially distance, and timetables for learning are staggered. At the same time, students can keep up with the rest of their education via online resources like language apps, video conferencing tools, and virtual tutoring.
Although there were initial fears about the impact of e-learning, both students and teachers have adapted well. Many teachers report that online learning enables them to take more time to individualize studies and that they no longer have to take valuable time out to handle negative student behavior. That allows students to progress at their own paces more without any distracting classroom pressures. E-learning also enables teachers to easily layout assignments, break down information into manageable chunks, and set deadlines for easier digestion.
Adapting to E-learning Tools and Resources
Students and teachers can adapt to e-learning better by embracing online tools, technologies, and resources. For example, Google Documents enables teachers and students to access the same document in the cloud. That has many benefits, such as teachers being able to provide feedback in real-time. And online tools allow documents to be easily converted as required. For instance, converting a PDF to JPG is as simple as uploading a file, choosing any design changes you want, and then converting and downloading the file.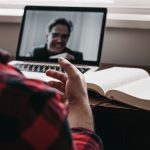 Another example is providing educational videos via links to streaming platforms like YouTube, making it possible to instantly access tutorials and educational presentations. The more teachers and students adapt to the latest online technological tools and resources, the more they can utilize them to enhance the learning process.
How Online Educational Platforms Are Adapting
Around the world, online educational platforms have been bettering their products and services to help the influx of students and teachers using e-learning in the wake of the COVID-19 lockdowns. For example, the professional online education platform Tencent Classroom was extensively used in 2020 in China after the Chinese government instructed a quarter of a billion students to continue their studies via online platforms, resulting in the largest online education movement in history.
Meanwhile, educational platforms like Lark began offering teachers and students helpful features like unlimited video conferencing time, real-time co-editing of projects, auto-translation capabilities, and smart calendar scheduling.
Challenges of E-learning
Even when COVID-19 is finally conquered, it looks very likely that e-learning will continue to grow as technologies make it easier for students and teachers to complete certain tasks. However, many students still face challenges when it comes to e-learning.
Most notably, those without computers or reliable internet access are struggling to keep up. For instance, in the United States, around 25% of students come from disadvantaged backgrounds and therefore do not have computers to work on. And while 95% of students in Austria, Switzerland, and Norway have computers, only 34% of students in Indonesia have computer access.
Featured Image: Kate Trifo, Unsplash.