Here's How We Can Make Online Proctoring Less Creepy
August 27, 2020
The switch to online education or hybrid learning can offer convenience and safety for students. But now that it's becoming mandatory in many institutions, it is causing concern for some. In the last several months we've heard stories of students – understandably – feeling uncomfortable about the shift to online proctored exams. They raise valid questions around online proctoring systems, such as: is someone watching me through my camera? Can they access my computer remotely? Is my personal data secure? In short–online proctoring can feel creepy.
For educators, it's critical to maintain a high-quality student experience alongside the institution's reputation and integrity through continuity of learning A poor remote testing experience can be detrimental to a program's reputation or a student's path, so any transition to online proctoring needs to be carefully managed. When it comes to high stakes assessment, it's critical to maintain the validity of your exams and academic programs when moving everything online.
The good news: the technology to deliver secure online exams and maintain a level playing field while delivering a positive experience for students exists. But there are some key things to make sure your online proctoring system has in place to ensure students are getting a fair and secure experience.
How to Make Online Proctoring Less Creepy

Research shows that instances of cheating increase substantially if a test is not proctored, so some level of monitoring is necessary to create a level playing field and ensure that every student gets the result they deserve. Whether you use live or record-and-review online proctoring, a remote proctor is there to verify a student's identity and observe the student's environment via their webcam in much the same way an onsite proctor would in a physical exam hall. Online proctors are trained to pick up the use of unauthorized devices or suspicious objects, actions, or people that might indicate cheating during an exam.
Oh just getting ready to take an online exam while being watched by a proctor via webcam! #creepy

— Kara Schroeder (@karaaboolou) September 21, 2013
But we get it – both options can feel intrusive while an exam is being conducted and proctored in someone's own home via webcam rather than an exam hall. Universities should insist on having only trained, professional remote proctors. The remote testing experience should replicate the in-person, on-site experience and security by ensuring that their online proctors are certified and trained to have the same – if not higher – professional standards as an in-person exam proctor. A remote environment calls for greater standards to help securely manage recorded exams and preserve students' privacy and comfort with online proctoring.
Combine AI with a Human Proctor for the Best Outcomes 
Determining whether an action constitutes cheating requires human subjectivity, especially during this pandemic when many students are home with parents, siblings, and other family members for large portions of the day. For example, if a parent or younger sibling enters the room while a student is taking an exam and starts a conversation, using a human to assess whether the discussion was about the test (cheating,) versus something less objectionable (a child asking a parent for a drink of water).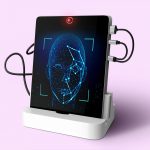 Schools should select remote proctoring vendors that combine their artificial intelligence with human review. Students would then take comfort in knowing that scoring and cheating decisions are not being made solely by technology or solely by the human proctor. The technology and/or proctor is there to flag suspicious activity, but in both live and record-and-review, suspicious activity or incorrect answers are flagged, and any final decisions are deferred to the university to review.
Clear communication about how AI is being used, along with an appropriate level of involvement by a human proctor, can create a balance between security, efficiency, and user comfort.
Remote Access vs. Browser Lockdown Technology
Another common fear with online proctoring is related to remote access and the resulting threat of data insecurity. There is the perception that an online proctor needs autonomous access to a student's computer, but remote access is not necessary to effectively monitor remote exams. In fact, allowing remote proctors full access to a student's computer is something that should be advised against, and it is completely unnecessary in an online proctoring service.
Minimally intrusive technology, like a secure lockdown browser, doesn't require remote access to a test taker's computer and can be easily removed from a student's computer immediately after the exam is complete. There are existing online proctoring services that have been successfully and intentionally developed in a way that avoids the need for remote access while still ensuring test security and integrity. Students can download the browser lockdown application to their control panel, which will prevent users from copying, pasting, taking screengrabs, using remote desktop and virtual machines, as well as instant messaging or other applications, and accessing other websites for the duration of the exam.
Ensure Technology Supports Data Privacy
Now, more than ever, there's a focus on student data privacy. Students understand the risks when they share their Personally Identifiable Information (PII) and deserve to know how schools are protecting that information. While some PII is necessary to authenticate the identity of students taking an online exam, students and schools should partner with remote proctoring companies that minimize how much PII is required and have practice the highest standards of data protection.
Good Learning Tools Interoperability (LTI) integration eliminates the need for students to create a separate account and input PII into a proctoring system as well as your learning management system (LMS). With LTI, necessary data is passed simply and securely between your LMS and online proctoring system. This eliminates potential concerns by leveraging the user's LMS enrollment to avoid exposing additional PII.
With both record-and-review and live proctoring, exams are recorded for the protection of the student as well as the security of the assessment. Recording exams is purely for the purpose of identifying those few people who are trying to beat the system. But once these recordings serve their purpose to preserve exam integrity and fairness, the recordings should be permanently deleted. For example, at PSI, as part of our agreement with schools and individual students, we agree to only use the data collected during a proctored exam to ensure compliance with exam rules and academic integrity. Schools decide how long they want us to keep the encrypted data before it is automatically deleted.
Be Transparent and Communicate
It's important to recognize and acknowledge that any change or new technology can cause concerns when it is being used for the first time. Tensions are already high as a result of the pandemic, and changes to teaching, learning, and assessments are all being implemented quickly out of necessity.
The right technology paired with online proctoring is the key to ensuring the security and validity of online exams and is vital to reduce student anxiety around online proctoring. When that technology is combined with effective communication, it is possible to ensure a positive student experience.
A level playing field is important for any exam – whether it's online or onsite – so that no student has an unfair advantage, and everyone gets the result they deserve.
Author Bio: Doug Winneg serves as the EVP of Education Services at PSI Online. Doug has worked in the academic and certification assessment space for 18 years. Both as head of the PSI Services Education group, and prior to that as CEO and founder of Software Secure, acquired by PSI in 2016, Doug has designed assessment systems and services with a single objective, to promote test integrity. Doug has lead the design of secure computer-based testing systems for higher education and K-12 online education programs and national certification providers in the United States, Canada, The Netherlands and The United Kingdom, Australia and South Africa. Doug received his J.D. from the Benjamin N. Cardozo School of Law, and a Bachelor of Arts with Honors from Swarthmore College.
Featured Image: Morning Brew, Unsplash.