eLearning Supports a New Generation of Funeral Directors
February 04, 2017
Most of us go through life avoiding the thought of funeral homes and funeral directors. For this reason, most of us have also given little thought to what funeral directors do and to their training. In reality, the people who care for the recently deceased play a critical, albeit often under appreciated, role in our culture, and they require substantial training to fulfill this role. There is now evidence that eLearning supports a new generation of funeral directors as they explore the profession and acquire the complex science, social and business skills needed to succeed.
According to the American Board of Funeral Service Education, the governing body that accredits and monitors funeral program education in the United States, there are now more than 43 programs nationwide that offer one or more online courses to aspiring and licensed funeral directors. While all programs do require some on campus education, at least a dozen programs offer more than 50% of their courses online, enabling future funeral directors to increasingly train for the profession on their own time and from any location.
eLearning Options for Aspiring and Working Funeral Directors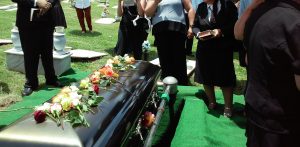 Nationwide from New York City to Houston to Littleton, one can take most or part of their training to become a funeral director online. Key programs include Funeral Services and Arts Program at St. Peterburg College, the Mortuary Arts Program at Hudson Valley Community College, and the Funeral Arts Education Program at Vincennes University. Key courses include those focusing on safety, including bloodborne pathogens, small business management, and funeral traditions (e.g., within specific cultures and even within specific occupations, such as firefighting and law enforcement).
eLearning Supports a New Generation of Funeral Directors Exploring the Profession
There is no question that perhaps more than any other profession, the mortuary business comes with a lot of stereotypes. Gina Krotee, who works as a funeral director in the Los Angeles area, admits, "When people find out what I do for a living, their reaction is typically either disgust or complete intrigue, but I rarely experience something in between. Most people are taken aback at first, but then want to ask a lot of questions. The subject of death is pretty taboo." Krotee adds that while some people look at her oddly due to her chosen profession, she believes any disdain for morticians is ignorant: "I work as much with the living as I do the dead. And being dead isn't a reason to freak out — I still see them as people. They aren't alive, clearly, but they still have people who love them and a life they've left behind, and you are the last person who will care for them."
While Krotee initially learned about the industry while watching the HBO series, 6 Feet Under, many younger directors have also discovered the industry online. Kevin Lawton, a funeral director in Connecticut, says, "I didn't really want to tell my friends that I was thinking about this, so I just enrolled in a few online courses. I was exploring the idea, but I wanted to just see if I could really do this. Having the option of completing courses online, while I continued to work at the bank was important. In the end, I completed my certification on campus, but online learning helped me get started."
eLearning for Continuing Training
Anyone who works as a funeral director has a unique and demanding job. First, they are expected to be on call 24/7. This is why historically many funeral directors have lived above their business (both 6 Feet Under, and the graphic novel and later Broadway musical, Fun Home, explore this peculiar living situation).
Whether or not one can imagine living in a funeral home and even raising their family there, it is easy to appreciate that if your job expects you to be on call 24/7 and to be on site most of the time, taking courses at a local college may be challenging. For this reason eLearning offers a flexible way for professionals in the mortuary business to acquire additional training without neglecting their businesses or neglecting their clients.
As Mathew Mitchell from Drake University, who oversees a continuing education program for funeral directors, explains, "Businesses that don't invest in their staff don't tend to survive for the long term. I would strongly recommend engaging in intentional training opportunities. Consistent investments in training over time yield results. We are all in an environment where we want to attract and retain the best people for our businesses. If you consider the cost of training versus the cost of replacing a good employee, the benefits of training outweigh the lost time and productivity in allowing those individuals to participate in those opportunities."
Photo by Rhodi Alers de Lopez on Unsplash