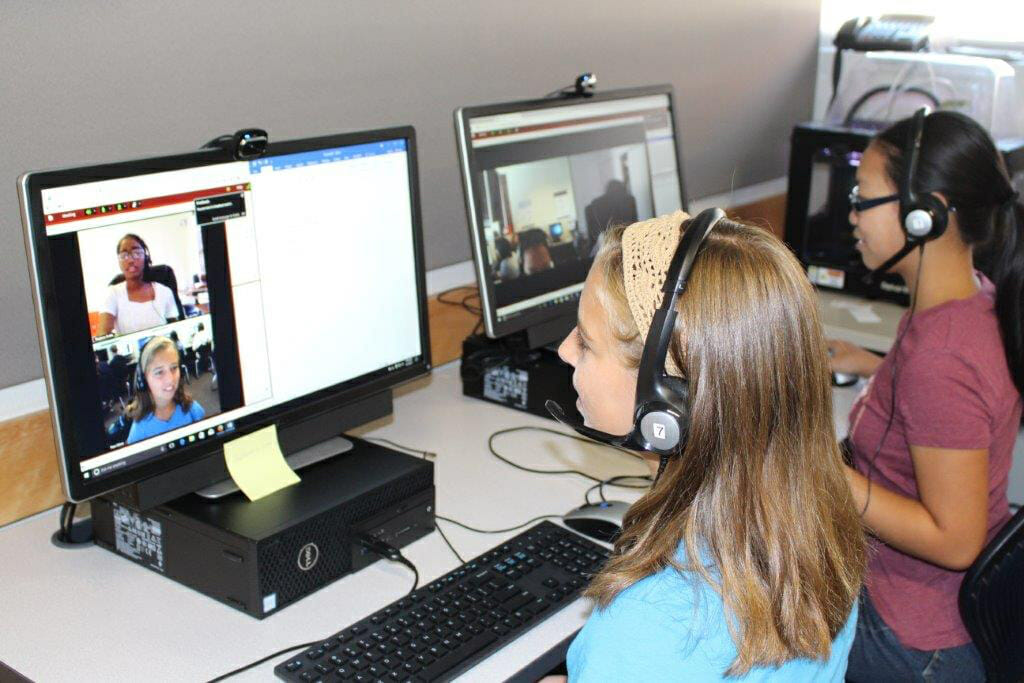 Davidson Academy Promotes Academic Excellence in an Online Format
March 29, 2018
Several recent reports have pointed to the under-achievement of students who attend online schools, but there are some online schools where students are not only meeting but far exceeding the achievement levels of students in traditional on-site schools. Davidson Academy is one example of an online school where students are truly thriving. Alongside other examples, such as Stanford Online High School, Davidson Academy is demonstrating how online schools can be just as rigorous, engaging, and supportive as on-site schools.
Davidson Academy of Nevada, which first opened on the University of Nevada, Reno campus as a free public school for profoundly gifted middle and high school students in 2006, added an online school in 2016.  To attend Davidson Academy on-campus or online students must score in the 99.9th percentile on accepted intelligence and/or achievement tests, have a demonstrated ability to perform at their required academic level, and exhibit intellectual and academic achievement.  They must also demonstrate motivation, social and emotional maturity, and a general readiness for the school's fast-paced educational environment. Since students at Davidson are based in courses places on ability rather than age, students at the school are often working several grade levels above their classmates in more traditional schools.
eLearning Inside News recently talked to Stacy Hawthorne, Davidson's Director of Online Learning, about her institution's rapidly expanding online school for exceptionally gifted students. This is part 1 of a two-part feature on Davidson Academy.
The History of Davidson Academy
Cait Etherington: The Davidsons first started an educational software company but later established an on-site school. Can you tell me more about their journey from software company to institution?
Stacy Hawthorne: The Davidsons sold their educational software company in the mid-1990s and began to research how they could give back in the field of education. They found an article about a profoundly gifted boy who, at age 5, could read at the 12th grade level and how he was forced to attend kindergarten. This story made the Davidsons realize that our nation's brightest students are arguably the most underserved in America's educational system. In 1999, they founded the Davidson Institute for Talent Development with a mission to support our nation's profoundly gifted young people, or those who score in the 99.9th percentile on IQ and achievement tests. After six years of working with this population and having many parents ask them to start a school, the Davidsons decided to open a public, "university school for profoundly gifted pupils" (NRS388C) on the University of Nevada, Reno campus with a middle and high school for these students. Families have moved across the country, and sometimes from other countries, for their student(s) to attend the Davidson Academy, where classes are grouped by ability not age.
CE: When and why did Davidson Academy decide to restructure to include an online school?
SH: In 2017, the Davidson Academy opened an Online High School for families who are unable to move to Reno to attend the school. The Davidson Academy's Reno campus is widely recognized as a leader in providing the best educational experience for profoundly gifted students. It just has one limitation – students have to live in the Reno area to access it. Since the Davidsons are committed to providing the best educational experience for all qualified students living in the United States, an online campus was the next logical move as it eliminates geography as a factor in admissions. We started planning for the launch of the full-time, accredited online high school in 2014. Our first class of students started in the fall of 2017 and we look forward to graduating students beginning in 2020.
Gifted Students in the Online Classroom
CE: How do you define "gifted"? Is it based solely on test scores? And why is the online context especially appropriate for this demographic of students?
SH: Profoundly gifted students are those who score in the 99.9th percentile on IQ and achievement tests. In many respects, online education is a natural fit with gifted students because it offers several specific advantages. First, online learning opens up the opportunity to take advanced courses and provide gifted students with access to instructors with specializations that may not be available locally. Second, online learning allows gifted students to take coursework that is specifically targeted for their ability level. Next, online learning provides gifted students with the ability to interact and learn with their intellectual, same-age peers. Online communities where gifted students are able to interact with their intellectual peers can help gifted students improve their social and emotional development. Lastly, gifted students often enjoy and are motivated to learn with technology because many already use technology daily.
CE: Even among the gifted population, some students are better equipped than others to thrive in an online setting. How do you identify the students who are likely to succeed in this context?
SH: Students who apply for admission to the online campus take an online learning readiness assessment as a part of their admissions process. This assessment identifies the degree to which students possess the attributes, skills and knowledge that are shown to contribute to success in online learning. Additionally, it helps us to learn more about non-cognitive factors, such as: self-motivation, time management and availability, self-discipline, on-screen reading rate and recall, persistence, ability to use a laptop, printer, software and the Internet, and typing speed and accuracy. Parents and students receive a full copy of this report. We recommend that they discuss the results in determining if online learning is a good fit.