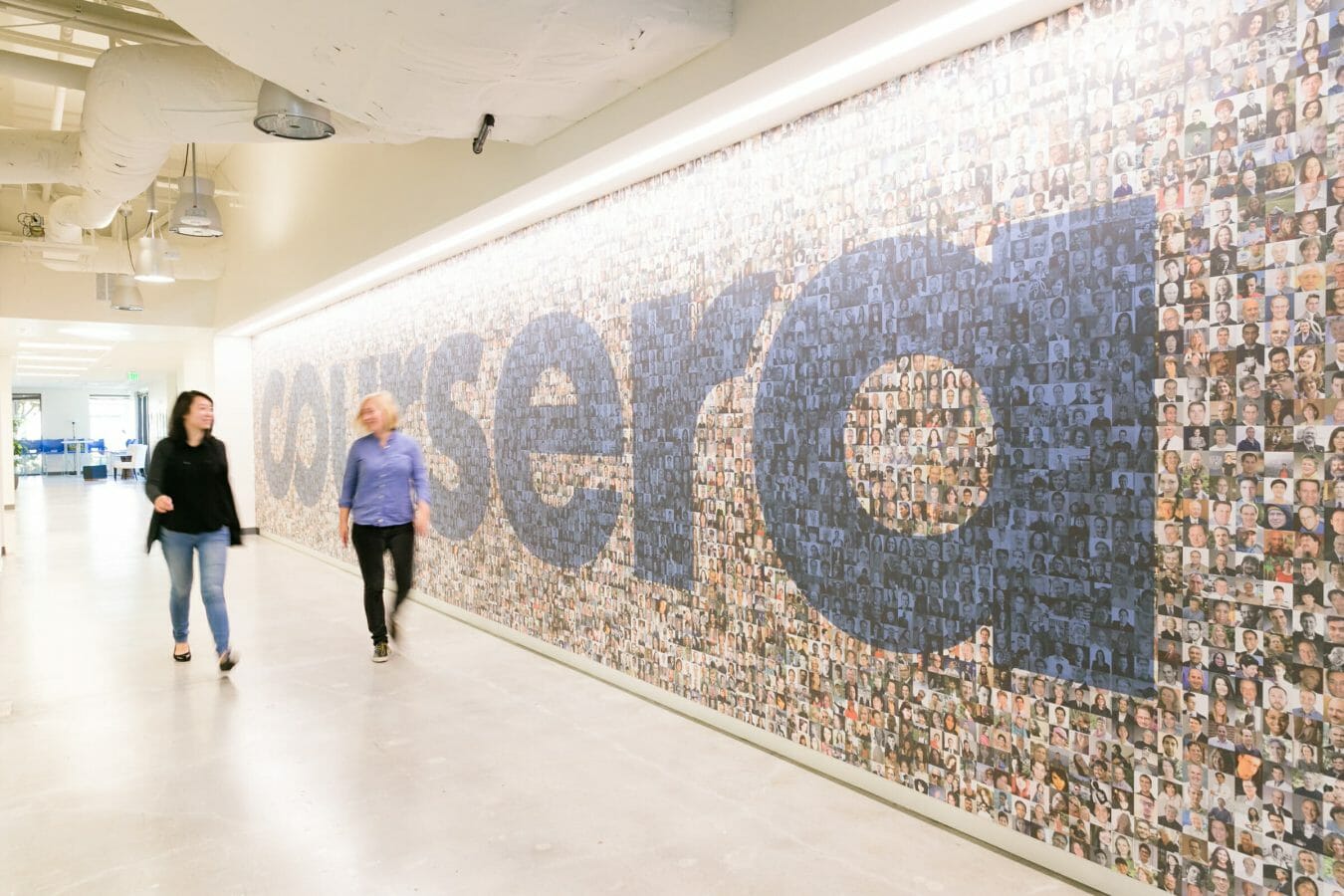 Coursera Launches AI Tool to Track and Gauge Employee Talent: Skills Benchmarking
August 08, 2018
While digital assessment continues to develop in K-12 and higher education classrooms, it remains difficult and spotty in the professional world. With the proliferation of MOOCs, private online course providers, and stratifying nontraditional degrees, it can be difficult for employers to confirm that an employee has the skills to pay the bills. On Tuesday, the MOOC provider Coursera announced new AI software to tackle this issue.
The machine learning algorithm is known as Skills Benchmarking and will integrate with Coursera for Business. It marks an extension of the existing Skills Graph, a database that charts skills acquired by learners.
Coursera's Skills Benchmarking and Skills Graph
As the company states in a blog post, "Machine learning models trained on anonymized learning and assessment performance data from Coursera's vast learner and content base provide a birds-eye view of your company's talent benchmarks against a defined peer group. You can customize this peer group based on any combination of industry, geographic region, and company size. With this information, Coursera can help tailor a curriculum to your exact learning needs, cultivating strengths and shoring up weaknesses."
Coursera believes that skills benchmarking will prove a useful tool in many regards. Besides looking for new talent, the tool can also give managers a snapshot of their own teams; highlight their strengths and weaknesses; and compare with other talent pools.
For an example, Coursera looked at a sample company's data science arm: "Overall, they perform very well in each domain. Zooming in on Data Science, however, reveals specific strengths and areas for growth: while strong in the classical competencies like Statistics and Data Visualization, the company is weaker than its peers in Machine Learning. Since Machine Learning is a crucial application of Data Science today, this company changed its L&D strategy and is now doubling down on strengthening its employees skills in that area."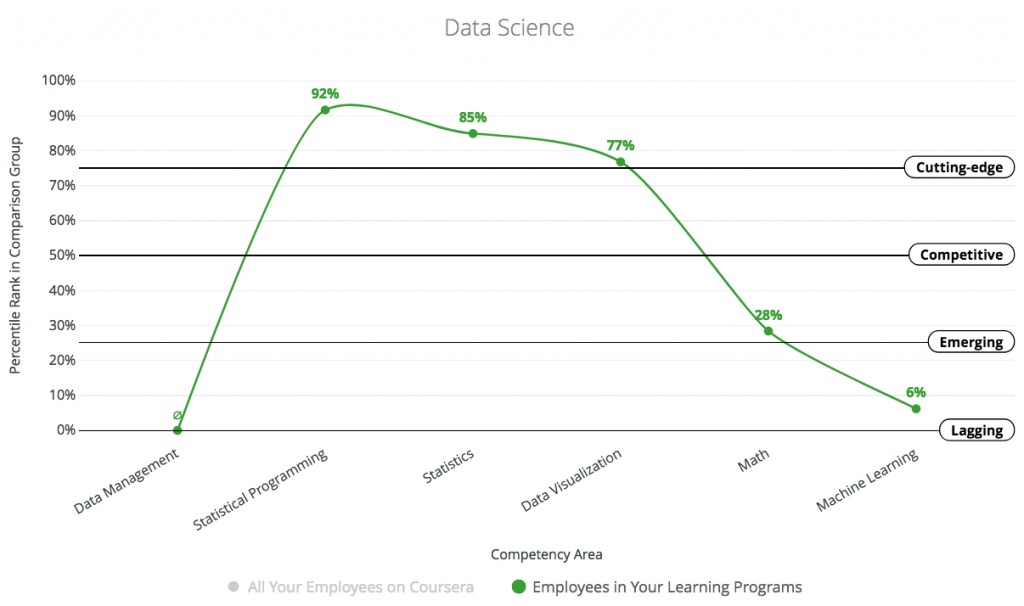 "As advancing technologies continue to change the way businesses operate, organizations need to assess and benchmark their talent continuously in order to compete," said Leah Belsky, Vice President, Enterprise, in a statement. "We're thrilled to equip businesses across industries with top quality learning content to drive deep reskilling, and organizations can now leverage actionable data to improve their strategic workforce transformation agenda."
Helping Businesses Asses their Talent
Coursera for Business is used by over 1,000 companies. As their base continues to grow, their snapshots and assessments of current talent pools will only get more accurate. Companies such as Adobe and UNDP mark notable clients.
"Having quantifiable insights into Adobe's technical talent helps us understand not only which technology domains we have talent within, but also the level of expertise within those technologies. These insights will give us a distinct advantage as we look to deploy our best talent against our most important technology priorities. We'll also use these insights to inform our technical training objectives and support Adobe Sensei, particularly focusing on AI and machine learning," said Seth Martinez, Program Manager for Technical Talent Development at Adobe, in a statement.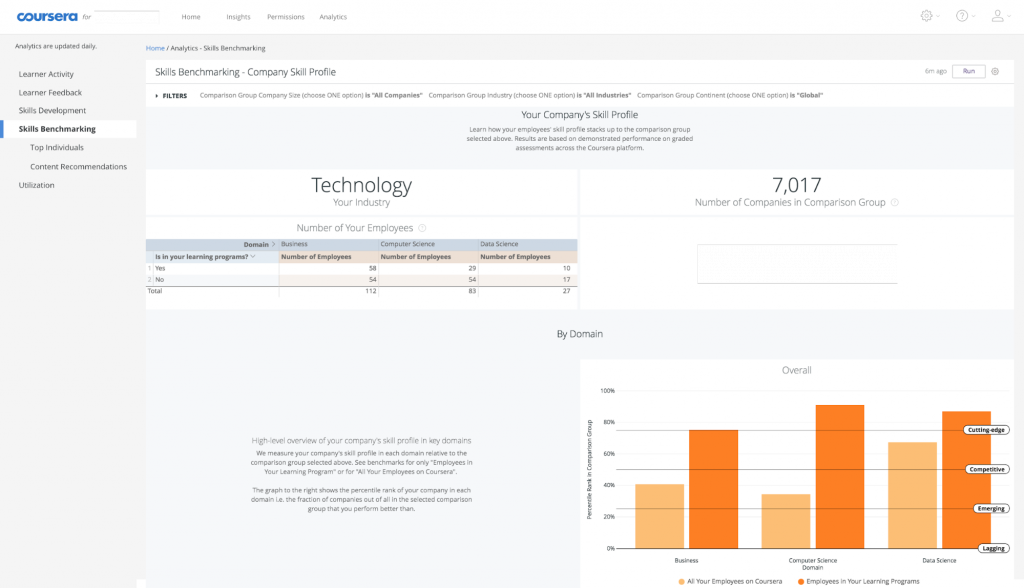 "The Skills Benchmarking tool provides an invaluable opportunity to help us identify our best talent and understand how it compares to other leading organizations. The initial insights we've drawn from the tool will support future talent development solutions with a specific focus on innovation and digital transformation," said Mariam Kakkar, Chief of Talent Development at the United Nations Development Programme (UNDP).
The moves also speaks to the ongoing development of private online educators that have sought to carve out a new space in the market. Coursera and its peer Udacity launched just a few years ago as MOOC providers. Today, however, they look increasingly like vocational trainers. In training learners for professional skills, they can also form partnerships with companies looking to hire.