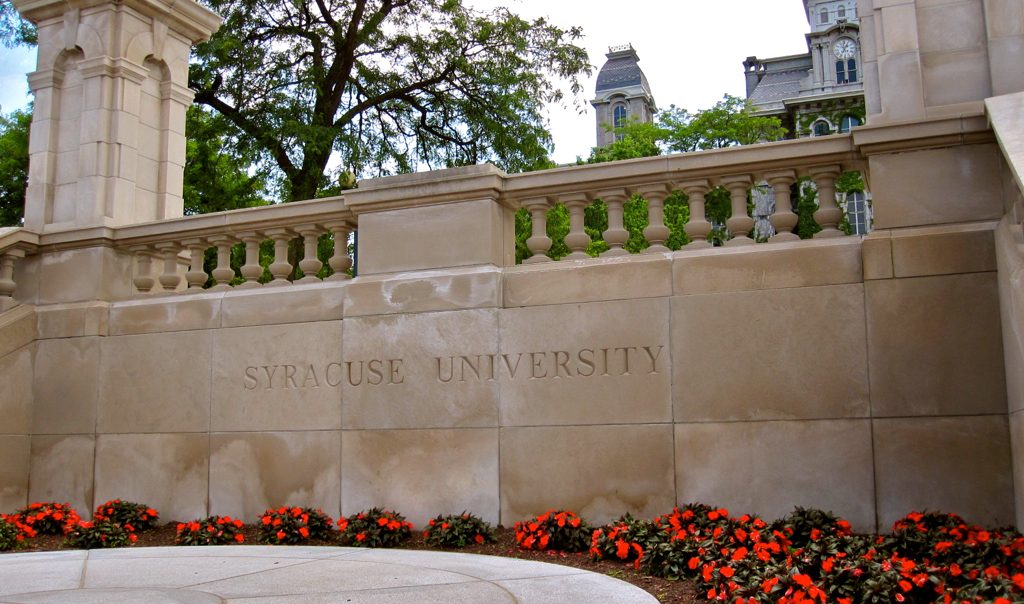 Building and Buying Online Program Support Are Tactics – Not Strategies
April 16, 2020
Launching successful online degree programs requires expertise and resources not typically found within most institutions – innovative instructional design and development, technology-informed advertising and marketing, and intentional and focused inquiry management. Faced with the challenge to adapt and evolve as modern universities, many institutions are faced with build or buy decisions. Do you create infrastructure internally or do you partner with an Online Program Management (OPM) company?
A common practice is to place the options of build and buy side-by-side, comparing pros and cons to determine which better aligns with the institutional requirements. However, neither option can align with all requirements. Developing complementary structures gets us closer than utilizing a single option.
How We Built Our Online Program
Seventeen years ago, Syracuse University identified a need to make significant investments in tools, talent, and technologies to deploy online programs. That decision was informed by a "build versus buy" analysis. We asked ourselves if we should partner with an online service provider or stand up an internal online support unit. The following critical considerations emerged:
Time to market. Did we have an immediate need to launch programs or did we have time to develop the online program in-house?
Total cost of ownership. How much capital would be required to buy or to build?
Features and functionalities. How well would out-of-the-box solutions fit our needs and align with our institutional culture?
Knowledge and expertise. Did we possess the resources to make an online program as good or better than what our peer institutions were promoting?
Core competencies. How central would online programs be to the university's instructional portfolio?
Based on the analysis, we made the decision to build. Our decision was primarily informed by our need to address increasing student demand for more flexible program options, extend Syracuse University's academic offerings to students beyond central New York, and address growing interest in online part-time studies.
Stumbling and Succeeding
What we built was a responsive and successful internal capacity to support program development and delivery. Generally speaking, the design models for the early online programs worked well. Indeed, our analysis of persistence, success, and completion data from 2000 to 2009 showed that online students were performing equal to or better than students in residential sections of the same programs. However, we discovered that running programs across disparate or unintegrated platforms introduced a level of complexity for faculty and students. Additionally, the lack of established protocols for faculty led to varying levels of design quality for each program. These were critical issues we needed to address if we planned to move our programs to scale. That's when we restarted "buy" discussions.
We had a history of experimenting and innovating with distance education and working with OPMs in limited capacities. We understood the business models (tuition revenue sharing, flat fees-for-service, low-interest capital investment, etc.) and the risks (outsourcing critical functions such as advertising, marketing, inquiry management, information technology, and student support). But we also recognized that partnering with an OPM could provide the resources needed to scale our online programs.
Syracuse University's Online Programs 17 Years After Launch
Ultimately, we decided to build and buy. Today Syracuse University maintains strategic partnerships with two major OPMs and tactical partnerships with niche online service providers. All of these partnerships compliment the work we were already performing in-house. The level of support, quality production of rigorous courses, and faculty engagement we have achieved with our OPM partnerships are now institutional benchmarks for developing Syracuse University online programs.
Prior to partnering with OPMs, Syracuse University was partially committed to online teaching and learning: hampered by disparate processes, protocols, and inertia. Through our OPM partnerships, we have raised awareness of online teaching and learning among faculty and administrators and established the position of online instruction as a strategic component of the University's instructional portfolio. We have since used the rapid expansion of our online programs (our buy) to strategically expand our internal build capacity, creating the Center for Online and Digital Learning to standardize developing, delivering, supporting, and assessing all online teaching and learning at Syracuse University.
Building Versus Buying Today
We are in the midst of a transformational era in higher education, consistently challenged to fully embrace online teaching and learning. There is no singular solution that will help you adapt. Syracuse University recognized that the requirements to successfully implement an institutional online strategy are broader and more complex than simply partnering with an OPM or acquiring in-house technologies, tools, and talent. Outsourcing or insourcing – building or buying – are tactics, they are not strategies.
For some universities, it makes sense to purchase commercially available, tech-enabled services or use internal resources to develop an infrastructure that can support online programs. Syracuse University needed to do more than just check the boxes required to create good online programs. We needed to build quality programs that could be moved to scale without compromising the rigor, engagement, and innovation that defines the Syracuse University student experience. With successful records of efficient scale and significant investment, our OPM partners are contributing to Syracuse University's emergence as a leader in exceptional online teaching and learning. What we've discovered through our partnerships is that buying and building are not mutually exclusive. Together, they are complimentary and powerful.
Michael J. Frasciello is the Dean of University College at Syracuse University.