ASU's REMOTE Is Bringing Educators Together to Help Prepare For an Uncertain Fall
June 17, 2020
In the last days of March, it became increasingly clear to ASU Entrepreneur in Residence David Levin (former CEO of McGraw-Hill Education) that the COVID-19 pandemic wasn't just a world health crisis. It also posed a critical threat to virtually every education system. On April 4, he approached Arizona State University (ASU) President Michael Crow with an idea. Levin wanted to host a virtual conference for educators to help share best online learning practices, troubleshoot common hard and soft issues, and help stakeholders navigate a wholly uncertain future. The result of Levin's efforts, REMOTE, will occur on July 13 and 14. Educators wishing to attend can register for free.
"Most students are familiar with the 'sage on a stage' model of teaching," Levin said over the phone. "That suddenly got replaced by 'sage on Zoom.' Neither are the best way of doing things. The best of online programs, however, are tremendously exciting in the same way that the best on-campus programs are tremendously exciting. There are different things that can be done. We wanted to give a forum for people who do this incredibly well to show other faculty how to really make an impact."
REMOTE, Hosted by ASU: A Familiar Event in an Unfamiliar Setting
"Fifteen years ago, I'd explored virtual conferences," Levin said. Before McGraw-Hill, he also led UBM, a London-based B2B event organizer. "I said, 'Look, I know virtual conference technology works. This isn't Zoom. It can do all the things people are familiar with. It allows for chance, serendipity, a multi-track environment, live Q&A, and all the things you'd expect from a live event."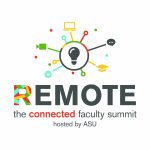 Levin also knew that, for REMOTE to work, it had to be available to educators at no cost. He and his team quickly found broad support from both private and philanthropic organizations. The Bill and Melinda Gates Foundation and Pearson signed on early. ASU agreed to host in a non-promotional capacity.
"I'm very grateful to the sponsors who stepped up and allowed us to make a difference here," Levin said.
The Structure of the Conference
REMOTE is broadly intended for educators and administrators. Over the course of two days, it will feature dozens of 30 minute sessions. Each will entail a fifteen minute presentation followed by fifteen minutes of Q&A.
These presentations will fall into three general tracks. The first might be described as gen-ed remote teaching strategies. It will focus on topics that are universal to remote instruction, like boosting learner engagement, socializing online, or creating an inclusive remote environment.
The second is subject-specific and will delve into the nuances present within an individual field of study. Chemistry instructors will present to and for chemistry instructors, as will literature instructors and psychology, etc.
The third track involves broader 'unconference' sessions. One or two experts will make themselves available to engage in a general, unstructured conversation with attendees.
"People will be familiar with an unfamiliar concept," Levin said. "This is a virtual conference. It's not a webinar. It's not Zoom. There is interaction. There is Q&A. It's designed to support faculty deliver a better back-to-school experience for students. That's the only objective. So we'd encourage people to sign up and come along."
Stakeholders can register to attend here at no cost.
Media courtesy of ASU.