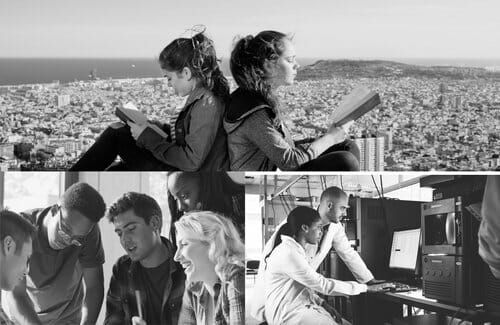 Station1 University: The Arrival of Higher Ed's Future
December 11, 2017
Over a year ago, Christine Ortiz, a highly accomplished engineer and MIT Dean, stepped down from her post to start her own university. Now, Dr. Christine Ortiz, who has retained her professorship at MIT, says her "university of the future" has a name, founding team, and website, but is her Station1 ready to take flight and if so, what does Station1 means for the future of education?
What We Know About Station 1

As stated on the university's website, which looks more like a trailer for a new Star Trek film than a typical institutional website (as illustrated, the aesthetic of the Station1 logo even appears to resemble the aesthetic of the Star Trek logo), Station1 is currently still taking shape and will scale up over the coming four years into a full-scale university:
Station1 will operate as a nonprofit organization, implement The Station1 Model, and scale student participation in its programs over the next four years. During this time, Station1 will grow with the inclusion of multiple sites at other cities nationally and internationally. Station1 will also partner and collaborate with existing higher educational institutions in areas related to our mission and vision, that is, new models for learning, novel combinations of digital technologies and vibrant physical places for collaboration, educational technologies specific to the Station1 model, and a postsecondary financial model that will promote access, scalability, and sustainability.

In approximately four years, Station1 will apply for conversion to a licensed, accredited university. Our long term vision for Station1 is to create an educational movement where cultural, societal, and disciplinary differences, which might have once been barriers to exchange, now serve to unite people across the nation and the world in an interconnected community that utilizes science and technology to foster equity, sustainability, peace, and prosperity for all of humanity.
Based on the institution's mission statement, there are high hopes that Station1 will offer a bold new version of what higher education might look like as new learning technology platforms and big data continue to transform how we teach and learn, as well as the future of work. But so far, Station1 is far from going into orbit.
As reported by the Chronicle of Higher Education, to date, "Donations are paying for one development employee and a soon-to-be hired program director (applications open)," and "Station1's address is listed simply as "Lawrence,  Massachusetts," because office space hasn't yet been leased." But why Lawrence and not Cambridge or Boston, Massachusetts or another tech hub such as New York City or Palo Alto? As Dr. Ortiz told the Chronicle, "We looked at a lot of cities in Massachusetts, and Lawrence really jumps out at us. It has a really amazing community — diverse, multicultural, very high immigrant population, and just really an amazing community. It's a burgeoning ecosystem that is in the Boston region, but not in Cambridge or Boston."
Station1 and Blended Learning
While the university will not operate entirely online, as stated on their space-age-inspired website, blended learning will certainly be a key part of the university's mandate: Transcending artificial disciplinary boundaries, Station1 has developed a learning framework and blended (virtual and physical) methodology that scaffolds, contextualizes, and enhances inquiry and research-based learning to enable students to create new knowledge, technologies, materials, devices, and designs with positive societal impact."
Station1 and Self-Directed Learning
Another key part of Station1 will be self-directed learning. As Dr. Ortiz explained in 2016 when she initially launched plans for her university of the future, "I've been at MIT for 17 years, and it's been amazing. And I've always been interested in curriculum and thinking about the future of the research university, and I did a lot of archival research on it. And I found in my research that many of the structures were really taken from hundreds of years ago. I think we're at a time where we can think about the future, and moving forward how to reshape it." To this end, Dr. Ortiz envisions a university with no majors, no lectures and no classrooms but with clear learning outcomes designed to meet the needs of 21st-century students and employers.
Interested in becoming part of the Dr. Ortiz's experiment in the future of education? If you are currently an undergraduate, you may be eligible to join Station1's Summer experience program, which will launch in 2018. The deadline to enrol is February 1 and details can be found on the university's website.