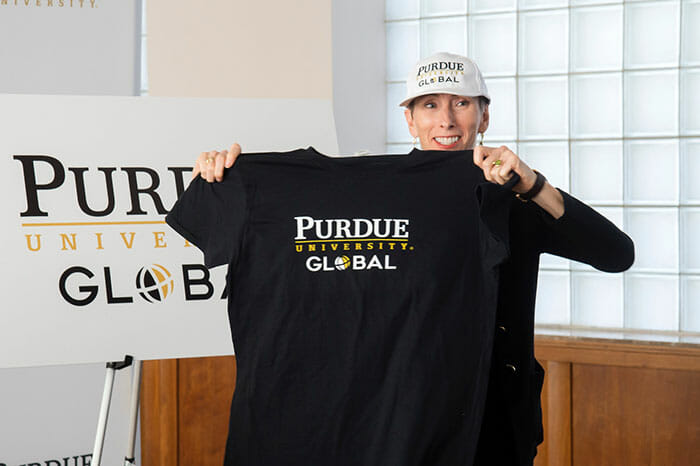 Purdue Global Launches Its Own Website and Opens Enrollments
April 09, 2018
Last week, Purdue University Global finally launched its website and took the first steps toward enrolling new students. They also used the occasion to break out branded swag, including t-shirts and ballcaps emblazoned with the Purdue University Global logo. But can swag tame the controversy that has surrounded Purdue University Global since President Mitch Daniels announced plans to create the new entity last year?
Purdue University Global's Development
When announced last April, Purdue University's acquisition of Kaplan received mixed reviews from many members of the Purdue community. For some, the purchase was the ideal way to honor the university's longstanding mandate. As Daniels explained at the time of the announcement that Purdue Global was extending the Land Grant university's mandate to serve all students.
However, following the announcement, the initiative also received harsh criticism from many Purdue faculty members. The Indiana Conference of the American Association of University Professors, which represents Purdue faculty, complained that faculty had not been fully consulted.
Launch to Include Free Tuition for Purdue Employees
As stated in a press release issued last week, Purdue University Global officially launched on April 2 by unveiling a new website and logo. As part of the launch, they also offered free access to Purdue Global courses to all faculty and staff. Notably, most universities offer their employees and often their dependents free or discounted access to undergraduate-level courses, so the gesture is not unprecedented. But Frank Dooley, Purdue senior vice provost for teaching and learning, emphasized, "More than 450 Purdue employees already have expressed interest in Purdue Global."
Betty Vandenbosch, Purdue Global chancellor, described the launch as an exciting day for Purdue. Vandenbosch further emphasized, "We want Purdue Global to be the standard for how public education can be offered to those who want to improve their lives."
The press release issued last week confirmed that approximately 30,000 students enrolled at Kaplan University have now become students of the new arm of Purdue and further confirmed that Kaplan's former students will be able to complete their degrees in progress.
While at least some Purdue faculty continue to worry about what the new arm of the university will mean for existing and future Purdue students and faculty members, there is no question that with enrollments in process and swag on the table, the university is now well beyond the point of no return. Purdue University Global is clearly officially up and running and only time will tell whether or not Purdue's faculty had legitimate reason to object to the acquisition in the first place.
This article previously contained patchwritten content that too heavily borrowed from its original source. It has since been changed accordingly.