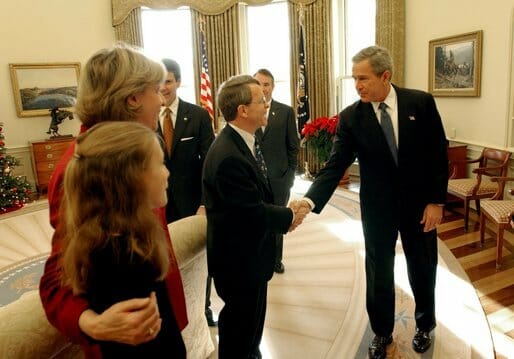 Ohio Governor Hopeful Mike DeWine Proposes Most Stringent Accountability of Virtual Charter Schools in the Country
September 11, 2018
On Thursday, Ohio Attorney General and Republican candidate for Governor Mike DeWine announced his Preparing Ohio's Future Plan, which included several platform points on education. Among them is one proposal that will potentially pose the most stringent regulation on virtual charter school accountability for poor academic performance in the country.
The proposal comes on the heels of the closing of the Electronic Classroom of Tomorrow, or ECOT. The virtual charter school, founded by longtime GOP donor Bill Lager, was found to have serially overrepresented full-time student participation during the 2015-16 and 2016-17 school years. That overrepresentation brought in—as far as regulators figure—an additional $80 million of undue taxpayer dollars.
Attorney General DeWine has personally received donations from Lager for numerous campaigns in the past. For this current one, he donated Lager's lates $12,533 donation to charity and has filed a suit against him and ECOT to recover the outstanding funds.
DeWine's Plan for Education in Ohio
Considering his ties to Lager, DeWine has sought to compensate with tough policies against virtual charter schools. As stated in his plan released Thursday,"We are moving into a digital age where technology is rapidly improving and extending access to learning opportunities for students, especially those with unique needs and abilities. However, the ECOT abuses demonstrate the need to make digital learning services more accountable. The DeWine-Husted administration will establish a pay-for-performance model that requires course completion testing and competency before the electronic school is reimbursed. The school does not get paid unless the student receives the education the state is funding."
If the proposed plan goes into effect, it will stand as the toughest oversight on virtual schools in the country. (The following information was collected from the indispensable resources provided by the Education Commission of the States (ECS)).
Academic Accountability of Charter Schools in the U.S.
As things stand, just 11 states (Alabama, Florida, Kansas, Indiana, Louisiana, Michigan, Missouri, Nevada, Oklahoma, South Carolina, and Tennessee) and the District of Columbia have legislation in place that requires the closure of charter schools—virtual or otherwise—following subpar academic performance. Many of these states, furthermore, allow for extensive appeal procedures. Public charters may be revoked in Hawaii, Minnesota, Texas, Washington, Rhode Island, and Utah following poor academic results, but again, these allow for extensive appeals.
A shocking 27 states cannot revoke public charters in the face of subpar academic achievement. Ohio is one of these states.
DeWine's proposal, therefore, to withhold state funding until academic achievement results sets him up as one of the tougher state officials in regard to virtual charter schools.
The policy is clearly a direct response to the ECOT scandal and his personal ties to Lager. But it doesn't necessarily represent a broader philosophy. Another aspect of DeWine's plan includes limiting standardized state testing.
"We need less testing and more learning in our schools so that educators have the ability to teach our children to do more than multiple choice tests, and instead focus on problem solving, logic skills, and creativity that will help prepare them to be college ready or on a pathway to a career once they graduate," DeWine said, according to the Canton Repository.
Ohio Democrats remain unconvinced by his plan, pointing instead to the political scoreboard.
"Mike DeWine has spent his 42-year political career shortchanging our students and fighting against giving them the resources they need to succeed," said Ohio Democratic spokesperson Robyn Patterson to the Repository. "DeWine voted against reducing class size. He voted against special education funding, and he voted against investing in the resources our schools need."
Cover Image: Ohio Attorney General Mike DeWine meets Former President George W. Bush.