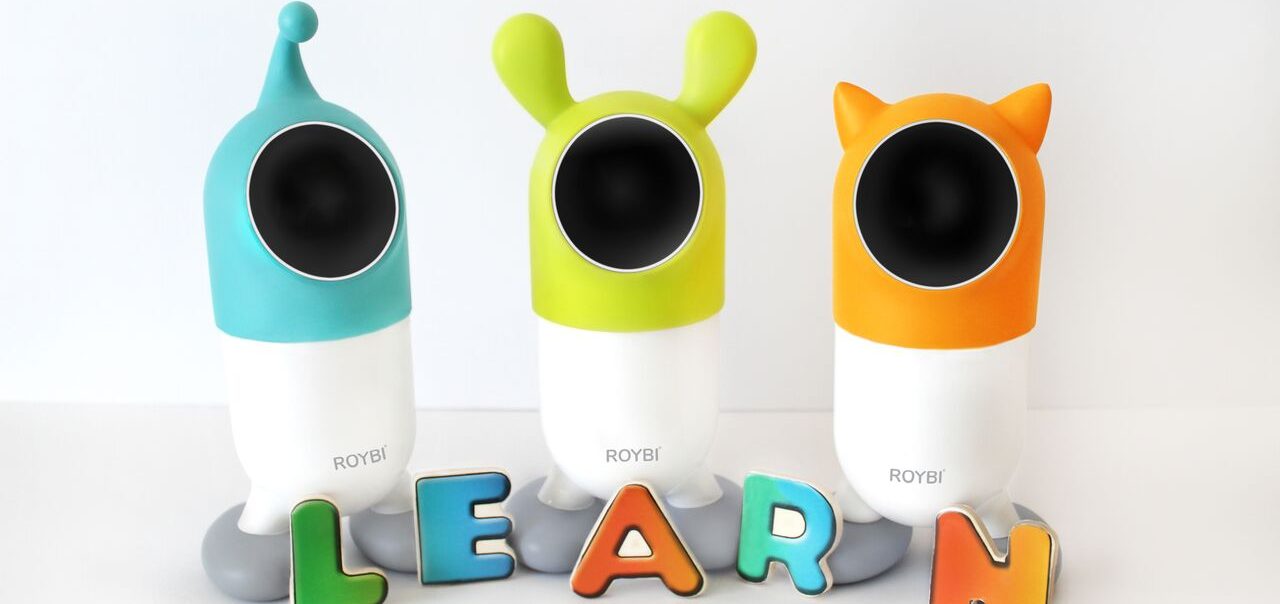 ROYBI, an Edtech Robot Manufacturer, Announces a $4.2 Million Seed Round
July 03, 2019
On Tuesday, the San Francisco-based edtech robot manufacturer ROYBI announced a $4.2 million seed funding round to ramp up manufacturing in advance of their product launch.
ROYBI makes a small Furby-sized robot that can talk, listen, see with a built-in camera, display images on its stomach, and think on its feet via machine learning software. The device can even determine whether a child is happy or sad and curate content accordingly. It's intended as an educational companion for children aged 3-7. And yes, that makes it sound a lot like a recent Black Mirror episode.
ROYBI Serves as a Robot Companion and Learning Aid
The device, however, will not have the capacity to upload an over-handled pop star's consciousness into its hard drive. Instead, it comes loaded over 500 interactive stories, lessons, songs, and a 70,000 word vocabulary. All of this is available in three languages (English, Spanish, and Chinese) and can only be accessed via voice. ROYBI does not have a screen. The product also comes with an app for a parent's mobile device where they can pre-approve content and get regular progress reports.
The company has gone through numerous accelerators, including xEdu in Finland. According to ROYBI Founder and CEO Elnaz Sarraf, the concept behind ROYBI is heavily based on Finnish education practices.
"Like Finland's model of education, ROYBI focuses on using play-based learning to teach children," Sarraf said. "Children are more likely to absorb information and want to learn when they are having fun. ROYBI encourages "learn through play" for students to enjoy the learning process using games, songs, and stories. Finland also prioritizes having less homework and removing the pressure to do extra work outside of school. Roybi Robot provides a flexible schedule so that children can continue learning at their own pace." 
According to EdSurge, ROYBI plans to launch an additional crowdfunding campaign later this summer to raise additional capital. From there, the company hopes to launch pilot programs throughout North America and partner with retailers to begin to offer the device in stores.
Sarraf has a history with IoT childhood products. She launched iBaby, a smart baby monitor device, back in 2013.
While Other Voice Assistants For Minors Are in Doubt for Some, ROYBI Says Parents Will Have Full Control of the Device
But besides the challenges of launching any product, ROYBI will potentially encounter other headwinds particular to 2019. Two federal court cases are currently pending—one in Seattle, one in Los Angeles—against the Amazon Echo Dot Kids Edition. The initial suit filed in Seattle on behalf of a Massachusetts girl alleges that the devices record and 'voiceprint' minors without parental consent.
While the suit makes no claims about individuals who purchase the devices for their families (which would indicate consent), it takes issue with the fact that the device immediately begins listening and recording upon hearing a 'wake word,' regardless of who speaks it.
ROYBI says that the suit doesn't apply because their device does not listen in consistently, and that it does not share any data with third parties. Parents can also decide to turn the camera off altogether.
ROYBI has yet to be mass-produced, and, to date, it has been tested only in small focus groups. But Sarraf says larger studies will be possible once it begins to be mass-produced.
After that, the company plans to expand its curriculum to work as an aid in the classroom.
"Ideally, I picture children using ROYBI as a home companion to continue learning outside of school while having fun," said Sarraf. "I also see ROYBI becoming a part of the classroom as a teacher's assistant. Teachers can customize ROYBI's content to fit with their lessons and create excitement in the classroom. Currently, ROYBI is focusing on language learning and will later expand into STEM learning."
Featured image courtesy of ROYBI.