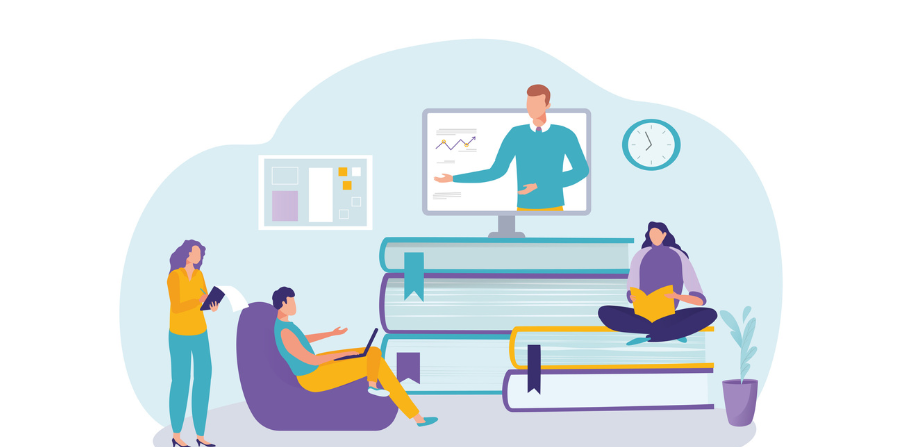 Productize Your Knowledge: How to Launch a Profitable eLearning Business
July 15, 2023
Do you have a valuable skillset you could package into an online course to generate recurring revenue for your business? With the growing demand for remote learning, there has never been a better time to start your own elearning or training business.
The eLearning industry is projected to reach $325 billion by 2025, and if you've decided to capitalize on the trend and turn your expertise into a money-making machine, this article is for you. Here, we will share a step-by-step possess of starting an online eLearning business.
How to Start a Profitable eLearning Business?
Before we jump into the steps for building your eLearning business, it's important to note that not all eLearning businesses end up being profitable. Creating a course and putting it on Udemy or Skillshare doesn't make your business a success.
The first time we launched a program, we mistakenly assumed that if we build a course, learners will come running to buy it. Unfortunately, it's not the case, and many people pour thousands of dollars into ads trying to sell a course that isn't selling because they didn't do market research.
So, to ensure that you have a profitable eLearning business, and prevent you from making common mistakes newbies make, here is our refined step-by-step process to follow when starting an eLearning business.
1. Define your Learners
Before you create an eLearning business, start by identifying the target audience for your course. Understanding your learners' needs, pain points, and learning styles will help you create a course that is engaging and effective.
Once you have identified your target audience, figure out the biggest challenge they are facing and looking to overcome. Assess the market demand and competition for your chosen topic to ensure there is a viable market for your eLearning course.
Choose a specific topic or subject area that aligns with your expertise and passion. By focusing on a niche, you can establish yourself as an authority in that field.
2. Build and Nurture Your Audience
The second step is to build an audience by creating digital assets like YouTube videos, blog posts, social media content, and, most importantly – an email list.
These assets should provide value and answer the questions your Learners have about their biggest challenges. This is where you attract them into your sphere of influence and grow your audience.
Remember that you don't own your following on social media platforms because they can restrict your account at any time. Algorithms change, and fewer and fewer people can see your content organically.
So, it's crucial to build your email list because it's an asset you own. Offering a high-value lead magnet will get people to sign up for your masterclass or email newsletter. Ensure that you provide exclusive valuable content to your email subscribers to keep them engaged, and never spam them.
3. Develop Your eLearning Content
The success of your eLearning business depends on the quality of your course content. To develop effective eLearning content, start by researching and gathering relevant information.
Chances are you already know a lot about the topic; if not – find experts that can contribute valuable insights to your program.
Structure your course content in a way that is easy to follow and engaging for learners. Think about your program as a journey: where are your customers now, and where do they aspire to be as a result of taking your course?
We recommend creating microlearning – bite-sized pieces of content that are easy to digest. Keeping your videos two, three, or five minutes long for most content will ensure that your Learners stay tuned and engaged and can easily find a specific bit of information when needed.
Always incorporate multimedia elements, such as videos and interactive quizzes, to keep learners engaged and motivated.
4. Choose the Right eLearning Platform
Choosing the right eLearning platform is crucial for the success of your eLearning business. Some of the best eLearning platforms for business are Kajabi and Learnworlds.
We've also tried Thinkific and Teachable; however, they don't offer enough capabilities to market and sell courses successfully.
Consider the features and pricing of each platform to determine which one is best suited for your program.
Look for a platform that offers customization options, marketing tools, and analytics to help you measure the results of your program. We use Kajabi because it's a one-stop shop for our eLearning business needs and includes a ton of pre-built funnels, templates, email marketing, and analytics.
5. Implement Effective Marketing Strategies
Once you've developed your eLearning content and chosen the right platform, it's time to implement effective marketing strategies to promote your courses.
Leverage content marketing, social media platforms, and collaborations with influencers to expand your reach.
One of the best ways to grow your course sales is by engaging other people as your affiliates. It's especially important if you don't have an email list yet. By offering 20-50% of each course sale to your affiliates, you can recruit an army of "salespeople" working to sell your eLearning product.
6. Launch and Promote Your Course
Before launching your course, make sure to do pre-launch preparations and testing to ensure that everything is working properly. You won't believe how many times, after sending emails announcing the program launch, we realized that we didn't include the right link or that a coupon code wasn't working.
We recommend having multiple packages of the same product so learners can choose between the basic and premium versions with added bonuses. Consider offering incentives, such as early-bird pricing or bonuses, to encourage learners to enroll in your course.
7. Provide Ongoing Support and Engagement
Establish a system for student support and feedback to ensure your learners have a positive learning experience. We use VideoAsk to get our Learner's feedback along with the community feature in Kajabi.
Continuous improvement of your courses based on learner feedback is crucial for the success of your eLearning business. Use feedback to make continuous improvements to your course content and marketing strategies.
Takeaways
In conclusion, starting an online course business can be an excellent way to generate recurring revenue and set yourself up for retirement.
By defining your learners' challenges, building an audience, nurturing your email list, and developing and marketing your course content, you'll create a sustainable and scalable business that will pay off in the long run.
About the Author 
Hector Simoudis is Greek born and raised in the Middle East. Hector moved to the U.S. to attend a Landmark School due to his learning difference (dyslexia).
He turned his "weakness" into his strength and later graduated from DU – Daniels College of Business Magna Cum Laude and Co-Founded eLearning Partners – a top-rated video production company in Denver, Colorado.
If you liked this article, check out Top Five Advantages of Mind Mapping.
Featured image: Vectorpower, iStock.