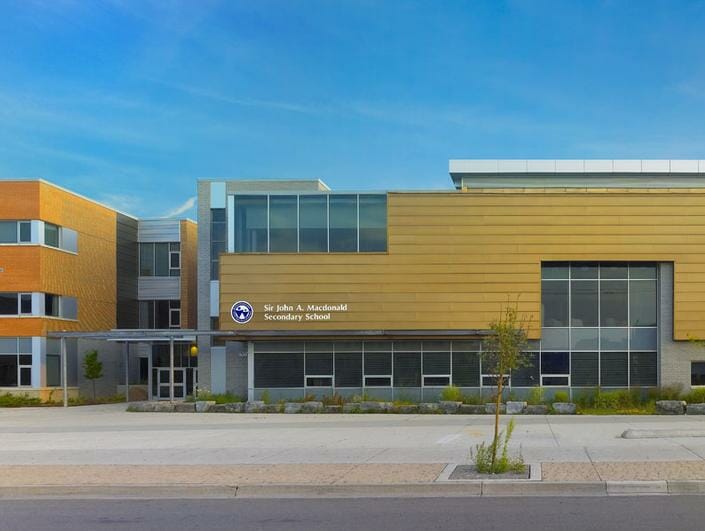 A Temporary Virtual High School In Canada's Tech Hub
September 26, 2017
Waterloo, Ontario may be a small city outside of Toronto but it has a reputation for tech innovation. It is home to Waterloo University and its impressive engineering department that has been turning out tech talent for decades, Blackberry's rise and fall took place in the city, and last year, Google opened a new office in the city with room for 1,000 engineers. It is no surprise then that Waterloo is now also home to a virtual high school experiment. Indeed, starting September 27, teachers and students at Waterloo's Sir John A. Macdonald Secondary School will use web-enabled laptops, smartphones and devices to deliver lectures and share projects, conduct research, carry out discussions, and complete homework assignments.
Why Students at Sir John A. Macdonald Are Going Virtual
As it turns out, the Sir John A. Macdonald experiment is not just about helping teachers and students explore the value of blended learning. The school is hosting a national student leadership conference from Sept. 26-30 that will force almost 1,500 students out of their classrooms. Going virtual will free up space for the conference. Local students will clear out and stay home from September 27 to 29 with only a small wing of the school remaining open to provide emergency tech support to teachers and students to ensure that everything can run smoothly.
The fact that this experiment is happening in Waterloo and most notably, at Sir John A. Macdonald is not entirely surprising given the high school's location and history.  A few years ago, the school helped pilot a program in the Waterloo Region District School Board that has put a Google-driven Chromebook into the hands of every student in the district.  This means that at least some teachers and students at the school are already using online platforms to complete some of their regular work.
Student and Teacher Reactions to the Online Experiment
By and large, students at Sir John A. Macdonald are eagerly awaiting a chance to participate in the three-day experiment. An article that ran last week in Waterloo's local newspaper, The Record, interviewed several students from the school. "It definitely is a really cool experience to get to go all online for three days," said 16-year-old Sir John A. Macdonald student, Sorcha McNally. Arden White, who is 17, explained, "I don't think the students see it as much of a difference. Everything is already online. Not much is going to change. They're just not going to be going to a physical place every day."
Teachers in the school admit that this is part of the school's effort to come into alignment with the local tech community's approach to learning. Teacher Anne Doelman explains, "I think we're taking a lesson from our startup community. We're prototyping a lot of different things and we're failing forward, we're failing fast, what's going to work, what's not going to work, and what can we learn from that?" Sandy Miller, another teacher at the school agrees that the experiment is also very much part of teachers' learning: "We're trying to really learn from this as a school and staff and pull some lessons from this experience."
Virtual High School Experiments Expand
While students at Sir John A. Macdonald will only have the opportunity to experience a virtual high school for just a few days, as reported in several earlier eLearning Inside News articles, virtual high schools continue to gain ground across North America and around the world. In some U.S. states such as Vermont, there is already an established and accessible virtual school network in place. A growing number of universities are also going online to start virtual high school and college-bridging school. Among available options is the Stanford Online High School that brings together students from nearly every U.S. state and countries around the world.