Like many universities with a high veteran population, Columbia University has established a center for veterans with a mandate to ease their transition from active service to campus life.  Recently, Columbia's Center for Veteran Transition and Integration designed a MOOC version of its already existent University Studies course.  In a nutshell, University Studies is a University 101-style course. It's designed to introduce students to campus life, clarify what is expected of them as students, and outline where they can find the people and resources needed to succeed. The course is not new. It has been successfully offered on campus at Columbia for the past five years by a team of experienced academic advisers. What's new is the course's online format. 
As explained in a press release issued by Columbia University earlier this week, University Studies for Student Veterans focuses on a range of topics but above all else, the course "offers strategies for academic success for service members and veterans navigating the transition from military service to the college classroom." Some specific features of the course include helping students develop effective reading and test prep strategies. 
Tailoring Content to Veterans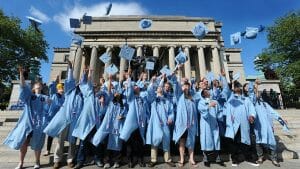 In many respects, veterans are just other students, and share the same concerns, but as R. J. Jenkins, a former associate dean of students who leads the curriculum design team at the Center for Veteran Transition and Integration emphasizes, "Student veterans who take the path from active military service to the rigors of a college classroom tell us the same thing: transitioning from being in the service to being a student isn't always straightforward, and the culture shift can be jarring. As a result, veterans who pursue higher education once they've left the military sometimes find the transition challenging."
Michael Abrams, the Center for Veteran Transition and Integration's Executive Director agrees: "Our mission at the Center is to better enable service members and transitioning veterans to meet their academic and career potential. This course is a major step toward fulfilling that mission. By using innovative educational technologies, best-in-class programming, and leveraging our meaningful partnerships with universities and organizations across the country, we feel we can have a substantive impact on thousands of transitioning veterans each semester."
Veterans Benefit from Self-Paced Learning
While not all veterans have suffered an injury that results in a long-term disability nor experienced an event that leads to post-traumatic stress disorder, many veterans have one or both of these conditions. This means that they often require additional support and that each day may present new challenges. On this basis, MOOCs also offer a specific advantage. Most notably, the self-paced structure of MOOCs enables students to choose their own pathway through the materials and to do so on their own time. Since the course is designed to provide students with a toolkit of resources that will help them over the course of their degrees, the online format is also a way to ensure they always have these vital resources on hand. 
University Studies for Student Veterans is a free course that is open to all; it is offered via the EdX platform.