Accessibility and Remote Classrooms — Are Your Digital Learning Tools Leaving Students Behind?
January 04, 2021
Educators around the world are adopting digital learning tools to adjust to new remote educational environments necessitated by the COVID-19 pandemic. However, in an effort to reach and support students by virtual means, teachers risk leaving the most vulnerable behind.
In the U.S., the nearly 7 million students with disabilities make up 14% of public school enrollment, yet many edtech tools on the market lack advanced accessibility features to fully support disabled students. By hastily implementing digital learning tools, well-intentioned educators have inadvertently put thousands of students with auditory, visual, physical, and mental disabilities at a disadvantage. However, when implemented correctly and with the right features, digital learning tools and a learning management system can actually present a unique opportunity to level the playing field.
Turn Accessibility into Opportunity
Digital learning technologies with advanced accessibility features make it easier for disabled students to learn at the same level as their peers — even more than in a traditional classroom setting. And in addition to disabled students, digital learning tools can level the playing field for disadvantaged students.
Currently, more than 380 million children across the globe leave primary school unable to read or do basic math. But with today's edtech, students gain access to tools that are tailored to their needs and circumstances, such as relying on a secondary language to learn. When education happens digitally with accessible tools, the disadvantages many students face can have a reduced impact.
Base-Level Accessibility Necessities for Edtech Tools
At the most basic level, an education technology stack should include accessibility features that cater to the three main disability categories — visual, auditory, and physical. Without the base-level capabilities to assist students with disabilities, you are putting them at a further disadvantage.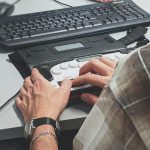 It's important to note that the level of education, i.e., primary versus higher education, will also define the level of tech skills students already possess. It's likely that regardless of ability, older students might have greater tech comfort. However, in general, speech-to-text software, video relay services for third-party sign language interpreters and screen readers should serve as a baseline for required accessibility features.
To further assist those with visual or auditory disabilities, don't overlook the obvious, simple accessibility wins that can come with using digital learning tools: Make sure your space is well lit and that any unnecessary, distracting noises are mitigated.
Invest in Edtech Tools with Built-In Accessibility
Beyond ensuring digital learning tools can support base-level features, look for edtech tools with specific accessibility features as a core part of the product. Accessibility features shouldn't only show up in the device hardware a student uses, e.g., laptop computers fit with speech-to-text software. An investment in digital learning tools must provide a higher level of accessibility that underscores its value.
Built-in accessibility features are often a proof point of capable, innovative products that can meet the needs of a wide range of students. In some cases, you may not have to invest in specific accommodations for individual students, as the features may already be a core part of your tech stack or an easy add-on/update. Some examples of built-in accessibility capabilities include:
Closed Captioning: It's important that students have access to closed captioning that is highly accurate and able to handle all levels of auditory disabilities.
Digital Whiteboards: If you are teaching in a hybrid learning environment, look for digital whiteboards that eliminate potential barriers, (e.g., a glare that distracts students) — this can make it difficult for students with visual or physical disabilities to focus.
Pinned Videos: The ability to pin or spotlight multiple videos at once within a video conferencing tool is helpful for all students, but especially those with auditory disabilities who may need to pin a sign language interpreter to their screen.
Educators should not view accessibility features as informal guidelines or suggestions. Instead, these features should be treated as necessary, top-down mandates from the institution's leadership.
While remote and digital learning is a challenge for both students and educators, it is also a unique opportunity to set students with disabilities up for learning success. Use accessibility-driven edtech tools to drive sustainable, positive change, and a level playing field on which everyone can learn.
David Hsieh is the general manager of advanced collaboration at Lifesize.
Featured Image: Kelly Sikkema, Unsplash.